Annapurna Base Camp Trek 14 Days
trip code: EH087
Day 01:: Arrive to Kathmandu; transfer to your hotel
Welcome to Kathmandu, Nepal. Our staff will be eagerly waiting for you at the Tribhuvan Internal Airport's arrival terminal. You will be greeted and escorted to your Hotel. If time permits us, we shall have a revision on the itinerary once again.
Meals: Welcome Dinner
We will take you to one of the famous Nepali restaurants where you will enjoy our Nepali food, ethnic dance and culture.

Day 02:: Sightseeing tour of Kathmandu & trek preparation day
Let us introduce you Kathmandu Valley in Brief. You will be taken to Kathmandu's most beautiful locales where culture history and the heritage of the ancient town spills in every corner. Explore the biggest hub of Hinduism in Nepal Pashupatinath where travellers get to experience the important aspects of the religion. Stroll around Boudhanath, a large dome shaped stupa where Tibetan culture and Buddhism are seen at its best. Exploration of Kathmandu Durbar Square is an awesome experience as it takes you to Nepal's one of the oldest architectural landmarks where local Newari culture also has been prospering for ages.
After spending hours observing these wonderful sites, we meet for a few hours to finalize your clothing and trekking gears that are required during the trek.
Meals: Breakfast
Day 03:: Drive to Pokhara 200km 7-8 hrs drive
Today, we drive 200 km along the snaky Prithwi Highway to Pokhara. The highway that most of the times runs above Himalayan Rivers offers an adventurous drive. Moreover, the local lifestyles in frequent highway towns and lush vegetation are interesting aspects to observe during the drive. Once, we reach Pokhara we check into our Hotel in Lakeside and set out to explore the tourist hub in town. Pokhara is the city decorated with lakes and panoramic Himalayan views. It is also the biggest adventurous hub of the country. The city is famous amongst trekkers because it is the starting point for Annapurna Region Treks.
Day 04:: Drive to Nayapul 1hr drive and trek to Thirkhedunga 1540m/5052ft
Early morning we begin the journey. An hour long drive along narrow and twisted Baglung Highway brings us to Nayapul. We begin our trek from Nayapul. After an hour walk we come to Birethanti, the popular and the first entrance to Annapurna Conservation Area Project. Then, gradually walking along gentle ups and downs and sometimes on the flat trail, we arrive to Hille. It is a couple of hours trek to Hille. Finally a gentle push on a short flat trail brings us to Thirkhedunga for the overnight stay.
Day 05:: Trek to Ghorepani 3194m/10,479ft
Today, the trek really tests your endurance. A long walking day along the steep uphill stony steps to Ulleri would be an effortful hike. Getting up to Ulleri after 3 hours of strenuous walk would be a great relief. We will enjoy the lunch at Ulleri and then continue to trek along the geltle uphill trail and sometimes flat trails brings us to Ghorepani. Ghorepani is small village at the foothill of towering 8000m plus peaks. Ghorepani refers to horse water and hence we see plenty of horses in Ghorepani. Overnight in Ghorepani.
Day 06:: Morning hike to Poonhil 3210m & trek to Tadapani 2706m/8878ft
Today, we wake up before dawn and begin the trek towards Poonhill. An uphill walk before the dawn for 45 minutes brings us to Poonhill right before the sunrise. From Poonhill we shall witness the most beautiful sunrise of our life. The mountains glitter like gold in the beginning and slowly their color changes as the sun goes higher. As the sun sets high enough, the white walls almost 270 degrees sprawl right before our eyes. The view is amazing. Annapurna, Dhaulagiri, Nilgiri, Fishtail, Dhampus and many other Himalayan peaks loom high up in the sky rising from the base at green hills. Enjoy the morning here and trek down back to Ghorepani. Enjoy the breakfast in your teahouse and resume the trek. We trek downhill most of the times and few uphills to Tadapani. The trek to Tadapani is wonderful as it goes through pleasant woodlands most of the times. Plus, it caters magnificent views of Dhaulagiri, Annapurna and Himalayan Nilgiri Ranges with Mt. Fishtail always in between. Overnight in Tadapani.
Day 07:: Trek to Sinuwa 2360m/7742ft
As the trek begins today, we start with the strenuous walk to Chiule. Trekking a bit further we come across a bridge over Tibuje Khola. Crossing the river we arrive to Taulung via Kingtrongkholagaon. Beyond Taulung, steep uphill trail stretches all the way to a beautifully located at the lap of Annapurna South Gurung Village, Chhomrong. A short push uphill from Chommorong brings us to Sinuwa. Overnight in a local teahouse at Sinuwa.
Day 08:: Trek to Deurali 3200m/10498ft
Yet another hard trekking day. We trek along the steep uphill trail almost all day. However slight descends and flat trails would act like breather during today's trek. Trek to the abandoned village Khuldighar that most of the times stretches through the dense bamboo woods we arrive to Hinku Cave. A short downhill walk brings us to Dovan and the final section of the walk along the side of Modi River brings us to Deurali. We stay overnight in a local teahouse at Deurali.
Day 09:: Trek to Annapurna Base Camp 4130m/13549ft
Trekking uphill on a ridge above Modi River we reach to Bagar, where the traces of avalanche moraines can be seen. Continuing to trek uphill from here brings us to Machhapuchhre Base Camp. Welcome to Himalayas. We are very close to towering Himalayan peaks now. The striking views of Mt. Fishtail from Machhapuchhre Base Camp and its closest neighbors including Annapurna South, Annapurna I, Annapurna III, Hiunchuli, Gandharvachuli and Gangapurna among others is the highlight of the day. Slowly we enter the treeless zone as we trek uphill towards Annapurna Base Camp. The course widens as we head west closer to the famous glacial basin, Annapurna Sanctuary. As we arrive Annapurna Sanctuary the view spellbinds you. 360 degree view of sparkling Himalayan peaks that include Annapurna south, Annapurna I, Hiunchuli, Machhapuchhre and many other mountains is simply stunning. Experience the rawest nature here as we stay overnight in a teahouse at Annapurna Base Camp.
Day 10:: Trek to Dobhan 2600m/8530ft
Enjoy the morning at Annapurna Base Camp as the views from here look even more breathtaking during the sunshine. Then, after the breakfast we trek along the retracing trail to Dobhan for the overnight stay. The trek today is mostly downhill.
Day 11:: Trek to Jhinudanda 2170m/7119ft.
Continue the trek downhill and arrive to Jhinudanda. Enjoy the bath in natural hotsprings of Jhinudanda and let go all your trek exhaustion.
Day 12:: Trek to Nayapul and drive back to Pokhara
The last day of the trek is along the downhill trail along the bank of Modi River to Nayapul. From Nayapul, we drive back to Pokhara. Explore around Pokhara and enjoy the evening strolling and partying in Lakeside.
Day 13:: Drive back to Kathmandu
Today we drive back to Kathmandu along Prithiwi Highway. Enjoy the drive. As we arrive to Kathmandu we will check into our hotel in the city. Evening on your own.
Meal: Dinner
Day 14:: Departure Day
Our representative will escort to the airport for the final see off to your onward destination. Have a safe flight and visit Nepal time and again we have much more to show.
TALK TO OUR ecstatic Himalaya EXPERT
We're here to chat about your next big idea.
Otherwise, email us anytime. On average, we provide quotes within 6 hours during business hours and the next day during off business hours.
Privately guided trips allow you to be in control of all the details of your trip - departure times, accommodations, extra nights, extra activities, extra experiences - what you want and how you want it.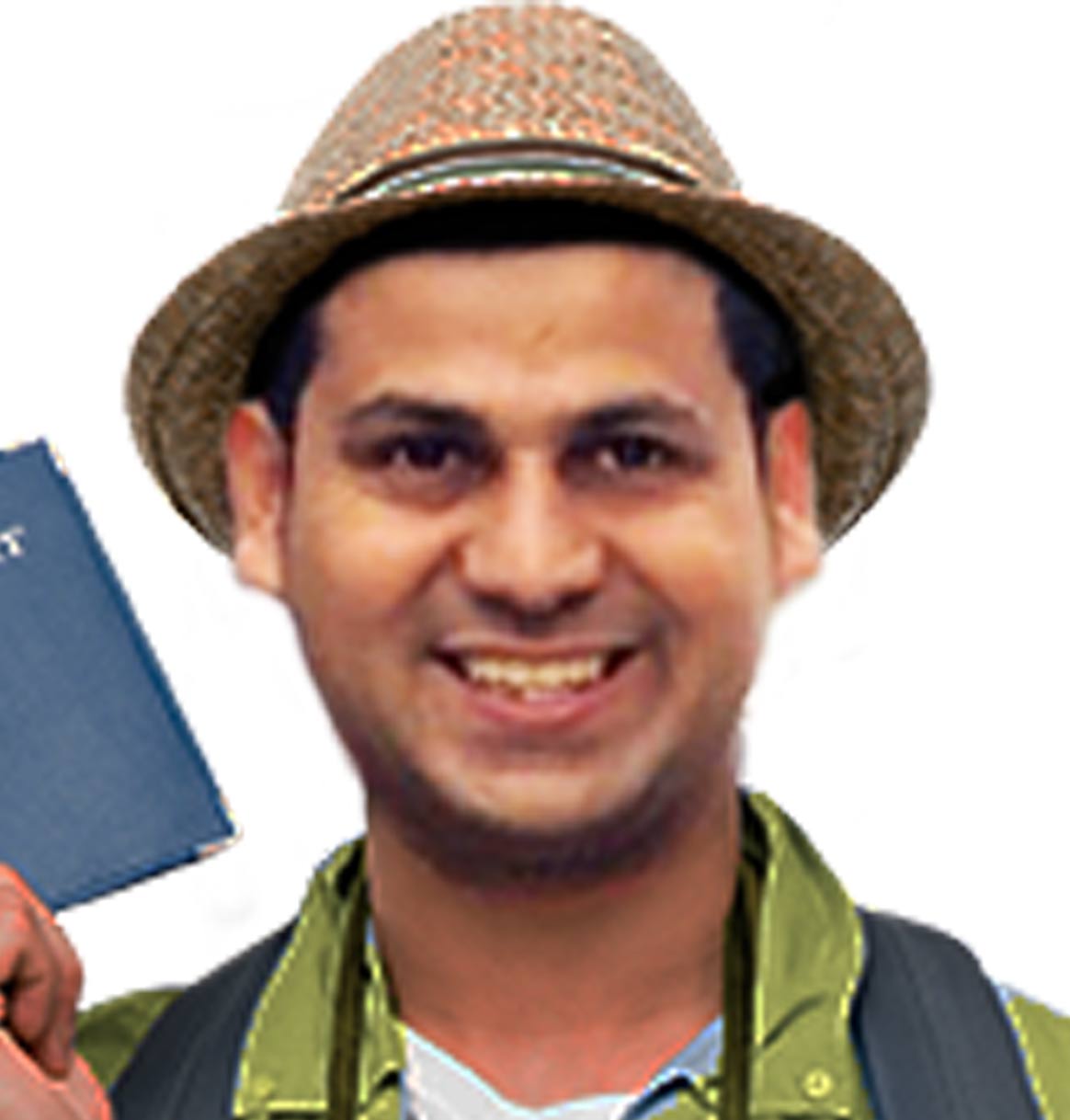 Paras Khanal
Travel Planner