Everest Base Camp Trek 16 Days
trip code: EH01
Day 01: Arrive to Kathmandu; transfer to your hotel
Welcome to Nepal, the Land of the Himalayas. You will be greeted by Ecstatic Himalaya Staff at the Tribhuvan International Airport (TIA), then s/he will escort you to the Hotel. A meeting is scheduled at our office to revise the trek plan briefly, if possible on the same day, if not, then in the proceeding day.
Meals: Dinner
We will escort you to one of the finest Restaurant for welcome dinner filled with Cultural Music, Ethnic Dance. ​
Day 02: Sightseeing tour of Kathmandu
Let us introduce you Kathmandu Valley. Actually this day is a trek preparation day. As our team is preparing the required permits for Everest Base Camp Trek; you will be taken to Kathmandu's most beautiful locales where culture history and the heritage of the ancient town spills in every corner. Explore the biggest hub of Hinduism in Nepal Pashupatinath where travelers get to experience the important aspects of the religion. Stroll around Boudhanath, a large dome shaped stupa where Tibetan culture and Buddhism are seen at its best. Exploration of Kathmandu Durbar Square is an awesome experience as it takes you to Nepal's one of the oldest architectural landmarks where local Newari culture also has been prospering for ages.
Meals : Breakfast

Day 03: Flight to Lukla & trek to Phakding
Today is the big day, the real adventure of the Everest Base Camp Trek begins. Trans Himalayan flight to world's one of the thrilling airports Lukla is sheer aerial adventure of the trek. Lukla is the gateway to Khumbu. As soon as we reach Lukla our adventurous trek begins. As the trek to Phakding along Dudh Koshi River Valley begins, the sights of beautifully painted stone mani walls manifest Khumbu culture. The views of Himalayan peaks Kusum Khangkaru and Kongde Ri brings us closer to high altitude nature. A short introductory trek of 3 to 4 hours will bring us to Phakding, which is the home to 500 years old Pemacholing Monastery. Over night on local teahouse in full board basis.
Meals: Breakfast/Lunch/Dinner
Day 04: Trek to Namche Bazaar
Today we begin the trek with uphill climb. We cross pass Rimshung Monastery and Uchhecholing Monasteries and get to the entrance to natural world heritage site Sagarmatha National Park. Trekking our way further in the lap of the himalayas, we arrive to Larbha Dobhan. A final steep uphill climb for an hour or so, which offers the first glimpse of Everest throughout brings us to Namche, the legendary Sherpa village of Khumbu. The day's trek is almost 6 hours.
Namche, the financial hub of Khumbu has modern facilties like banks, internet cafes, money exchangers and bars. We will stay in a fine teahouse in Namche.
Meals: Breakfast/Lunch/Dinner
Day 05: Rest day in Namche Bazaar for acclimatization
We have already reached the altitude of 3440m; hence a day rest to get customized with high altitude is essential. However, we will walk to nearby hotspots around Namche that helps acclimatization and offers an opportunity of cultural exploration. Overnight in Namche.
Meals: Breakfast/Lunch/Dinner
Day 06: Trek to Tengboche
Trekking along the pleasant trails of Sagarmatha National Park with frequent sights of Himalayan peaks including Ama Dablam, Lhotse Shar, Taboche, Kangtega and Thamserku we arrive to Phunke Tenga. A gentle push across an Army barrack brings us to Tengboche. Tengboche houses an ancient monastery with Mt. Amadablam at its backdrop, which is the prime highlight of Tengboche. On full board basis we will stay in a teahouse in Tengboche.
Meals: Breakfast/Lunch/Dinner
Day 07: Tengboche to Dingboche Trek
Climbing up along the stony steps we arrive to Devoche where the head office of Sagarmatha National Park settles. Continuing the uphill walk we come across the largest Sherpa Village of Khumbu, Pangboche, which also houses hugely religious monastery of the region. Then the walk on flat trails with some gentle uphill and downhill walk we arrive to Devoche.
Meals: Breakfast/Lunch/Dinner
Day 08: Acclimatization in Dingboche
One more rest day in Devoche is necessary for high altitude acclimatization. However, a short day hike to Chukkung that takes around 3 to 4 hours would help you to properly acclimatize. East to Devoche within Imja Tse Valley Chukkung nestles. Savor the beauty of snowcapped peaks and glaciers from Chukkung and walk back to Devoche for overnight stay.
Meals: Breakfast/Lunch/Dinner
Day 09: Trek to Lobuche
Today's early trek include the pleasant walk aside the beautifully lined mani walls. However the harder part of the trek begins as the trek enters the trail of Three Passes Trek. Cross passing Kongma La Pass 5535m, we arrive to High Camp at Lobuche for the overnight stay.
Meals: Breakfast/Lunch/Dinner
Day 10: Trek to Gorakshep & then to Everest Base Camp, Return to Gorakshep for overnight stay
Today is the biggest day of the trek as it takes you to the most important landmark of Everest Base Camp Trek - the base of world's crown, Everest. Climbing uphill we cross pass Lobuche Pass 5110m and Gorakshe Tsho Lake and arrive to Gorakshep. Stopping for the lunch break at Gorakshep, we resume our trek towards Everest Base Camp. Cross passing Mt. Pumori Base Camp and walking along the glacial trail for a while we arrive to Everest Base Camp. Enjoy the success and have the closest view of Everest from the colorfully tented Everest Base Camp before we walk down to Gorakshep for the overnight stay.
Meals: Breakfast/Lunch/Dinner
Day 11: Trek to Kalapatthar 5545m and trek back to Periche
Today we get to the maximum altitude Everest Base Trek takes us to. Early morning walk along the rocky trail brings us to Kalapatthar, the mountain also known as Black Diamond among trekkers. Savor the whole view of Everest from its base to top from Kalapatthar. Then descend down to Periche along the retracing trail.
Meals: Breakfast/Lunch/Dinner
Day 12: Trek to Khumjung
Today we trek along the retarcing trail until Phunke Tenga. The trek might be easier today as it is downhill walk most of the times as well as we are already used to high altitudes. Beyond Phunke Tenga we cross pass suspension bridge over Dudh Koshi River and head towards Khyangjuma, the place where the trails to Gokyo Valley, Khumjung village and Namche Bazaar branch. Views of snowcapped peaks like Ama Dablam, Thamserku, Tawache and Lhotse are stunning from here. The trail also offers possible sights of rare Himalayan species. On arriving Khumjung we explore the culturally rich Sherpa Village before we enjoy sound sleep in local teahouse.
Meals: Breakfast/Lunch/Dinner
Day 13: Trek to Monjo
Before leaving Khumjung, we explore Khumjung Gompa, visit Khunde Hillary Hospital & Government Yak Farm in the Khumjung valley. Walking through the world's highest airport of Syangboche we climb down to Namche for our lunch. Walking downhill from Namche brings us to Monjo where we will stay in alocal teahouse for the night.
Meals: Breakfast/Lunch/Dinner
Day 14: Trek to Lukla
The last day of the trek ends at Lukla with pleasant and easy downhill walk. On arriving Lukla enjoy your success and have a pleasant time strolling around the small Himalayan town as you are still in the lap of Himalayas savor the best of it for the last timein Lukla.
Meals: Breakfast/Lunch/Dinner
Day 15: Fly back to Kathmandu
With loads of memories and adventurous experiences we will fly back to Kathmandu. On your arrival at Kathmandu we will escort you to your hotel. Enjoy the farewell dinner with us in typical Nepali restaurant in Kathmandu in the evening.
Meals: Breakfast/Farewell Dinner
Day 16: Farewell Day
Our representative will escort to the airport for the final see off to your onward destination. Have a safe flight and visit Nepal time and again we have much more to show.
TALK TO OUR ecstatic Himalaya EXPERT
We're here to chat about your next big idea.
Otherwise, email us anytime. On average, we provide quotes within 6 hours during business hours and the next day during off business hours.
Privately guided trips allow you to be in control of all the details of your trip - departure times, accommodations, extra nights, extra activities, extra experiences - what you want and how you want it.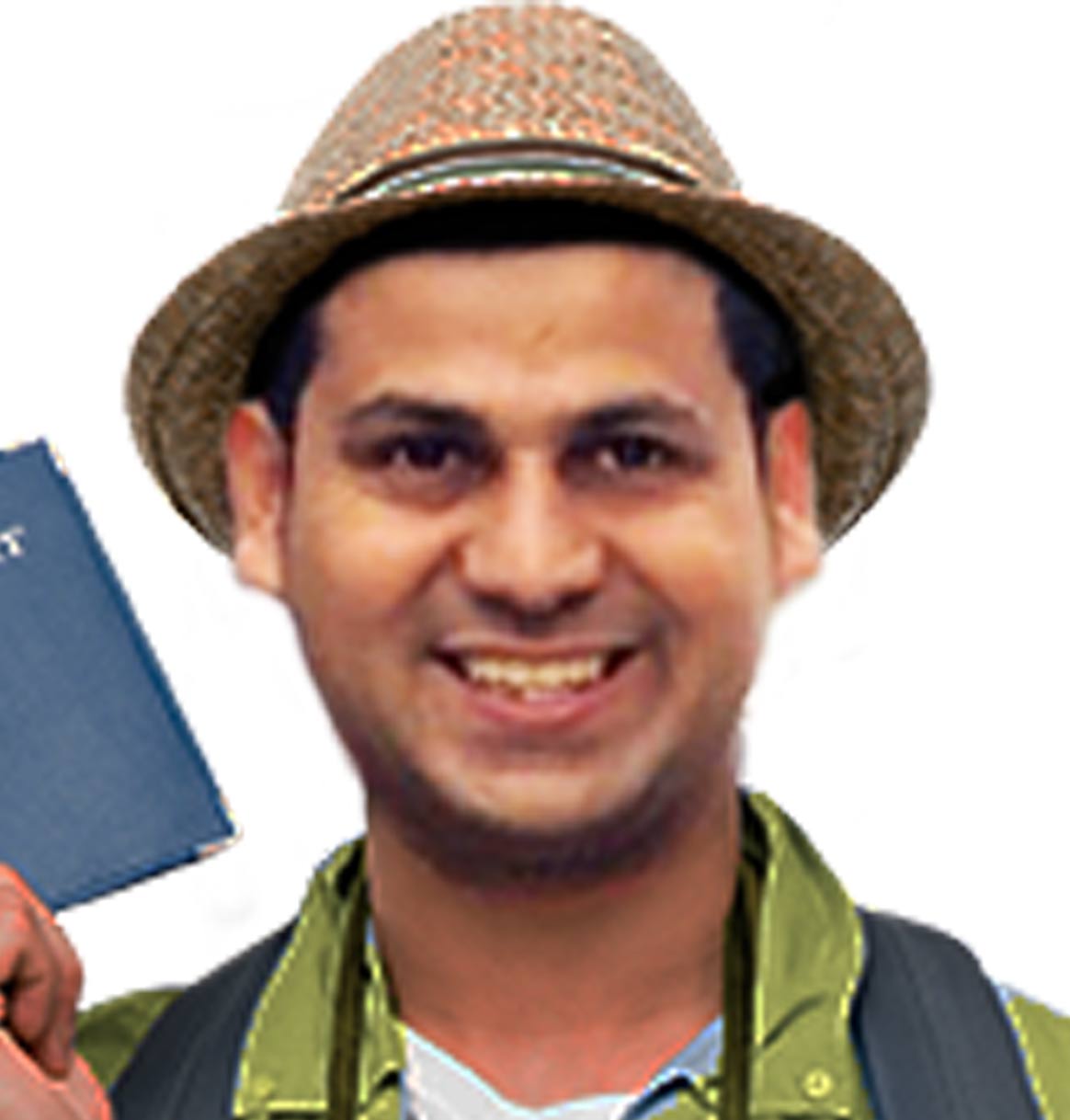 Paras Khanal
Travel Planner