Best of Nepal Tour 9 Days
trip code: EH0105
Day 01:: Arrive to Kathmandu; transfer to your hotel
Flying in to the Himalayan nation Nepal is different in itself. Witness the towering Himalayan giant's minutes before landing Tribhuvan International Airport in Kathmandu if the weather permits. Enjoy the cordial Nepalese welcome in arrival terminals of the airport and drive to your designated hotel in Kathmandu.
Day 02:: Sightseeing tour of Pashupatinath, Boudhanath & Kathmandu Durbar Square
Today you will be taken to Kathmandu most beautiful locales where culture history and the heritage of the ancient town spills in every corner. Explore the biggest hub of Hinduism in Nepal Pashupatinath where travelers get to experience the important aspects of the religion. Pashupatinath Temple wasn't at affected during the quake. Stroll around Boudhanath, a large dome shaped stupa where Tibetan culture and Buddhism are seen at its best. Boudhantah was negligibly affected during the quake. Though Kathmandu Durbar Square was badly harmed by quake 2015, the site still has its ancient aura. Exploration of Kathmandu Durbar Square is an awesome experience as it takes you to Nepal's one of the oldest architectural landmarks where local Newari culture also has been prospering for ages.
Day 03:: Sightseeing tour of Swayambhunath, Patan Durbar Square & Bhaktapur Durbar Square; Overnight in Bhaktapur
Today our day starts with the sightseeing tour of Swayambhunath. Famous as Monkey Temple, the UNESCO World Heritage Site was significantly damaged by the quake 2015. However, the main stupa sustained the quake and hence travelers have lot to sight here. Tibetan culture and Newari culture could be seen here in full flow as the site comprises both Buddhist and Hindu monuments and the deities within.. Then we drive to Patan Durbar Square. The best among three Durbar Squares of the Valley, Patan Durbar Square was slightly affected during the quake and hence architectural highlights of the Heritage Site can still be observed. Post lunch, we drive to Bhaktapur. Partially damaged during the quake, Bhaktapur Durbar Square still boasts on its amazing ancient Nyatapole. Moreover , the typical Newari culture can be observed here along with traditional pottery works in pottery workshops. Overnight in Bhaktapur
Day 04:: Drive to Chitwan 166km 6-7 hrs drive
Today, we drive 100 km along the snaky Prithwi Highway until Mugling. Next 36 kilometers along the similar road brings us to Narayanghat. The drive until here most of the times runs above Himalayan Rivers. Beyond Narayanghat, we travel along the lowland Nepal. However, the local and diverse lifestyles in frequent highway towns and diverse landscapes are interesting aspects to observe during the drive. Once, we reach Chitwan we check into our resort nearby Chitwan National Park. Chitwan National Park is the Natural UNESCO World Heritage Site. After a short breather and delicious lunch we set off to explore the jungle herding the back of giant Elephant. The park is the home to endangered species like one horned rhino, gangetic dolphin, Royal Bengal Tiger and ghariyal crocodile among others. Enjoy the safari and ride back to your resort.
Day 05:: Jungle activity at Chitwan National Park
Today we begin the day with the early morning canoe ride in Rapti River. Possibility of sighting abundant bird species and their activities is very high during the canoe ride. Enjoy the mild thrill and drive back to your resort for breakfast. In the afternoon we go for the jeep drive deeper into the woods, where we have plenty of opportunities to sight more wild species in the wilds. We come back for the lunch, rest for an hour or so and then ride on the Elephant to Elephant breeding center. The evening today is full of fun as local tribal clan tharus will perform their traditional dance in our resort.
Day 06:: Drive to Pokhara 146km; Sunset view from Peace Pagoda
Today after the breakfast we head towards Pokhara. Until Mugling we drive along the same road we drove couple of days before. Then we drive 90km along Prithiwi Highway to reach Pokhara. Once, we reach Pokhara we check into our Hotel in Lakeside and set out to explore the tourist hub in town. Before the sunset we drive to a Peace Pagoda hilltop that overlooks Pokhara and magnificent Fewa Lake. Sunset is amazing from here. Verdant forest, green lake and the silvery Himalayan peaks gradually turning into gold during the sunset is wonderful to watch from the hilltop. The widespread Himalayan Ranges seen from here include Annapurna, Dhaulagiri, Nilgiri and Mt Fishtail among others. Then we drive back to Pokhara and enjoy the evening in tourist hub of town, Lakeside.
Day 07:: Sightseeing tour of Pokhara; Adventure activity of your choice
Today our day starts with the magnificent views of Himalayan peaks from Annapurna to Dhaulagiri with Fishtail in between. Then we set off to explore the natural wonders of Pokhara. We enjoy walking in the darkness of caves like Mahendra Cave and Bat Cave. We search the gushing water of Seti River in o gorge above KI Singh Bridge. We see force of water flowing into earth at Davis Falls and we enjoy serene boating at serene Fewa Lake. We even stop at Barahi Temple, which lies in the middle of the lake and witness extreme Hindu devotion. Post lunch, we drive to another hilltop that overlooks Pokhara. Sarangkot is the hub of aerial adventure in Pokhara. We can fly with the hawks during paragliding from Sarangkot that offers opportunity to sight Himalayan giants very closely from the sky. If you are interested in other adventure activity please let us know. Pokhara offers bungee jump, zip-flying and ultra-light flights too. At the end of the day, we drive back to our hotel Enjoy the evening on your own.
Day 08:: Drive back to Kathmandu
Today we drive back to Kathmandu along Prithiwi Highway. Enjoy the drive. As we arrive to Kathmandu we will check into our hotel in the city. Evening on your own.
Day 09:: Depart Kathmandu
Our representative will escort to the airport for the final see off to your onward destination. Have a safe flight and visit Nepal time and again we have much more to show.
TALK TO OUR ecstatic Himalaya EXPERT
We're here to chat about your next big idea.
Otherwise, email us anytime. On average, we provide quotes within 6 hours during business hours and the next day during off business hours.
Privately guided trips allow you to be in control of all the details of your trip - departure times, accommodations, extra nights, extra activities, extra experiences - what you want and how you want it.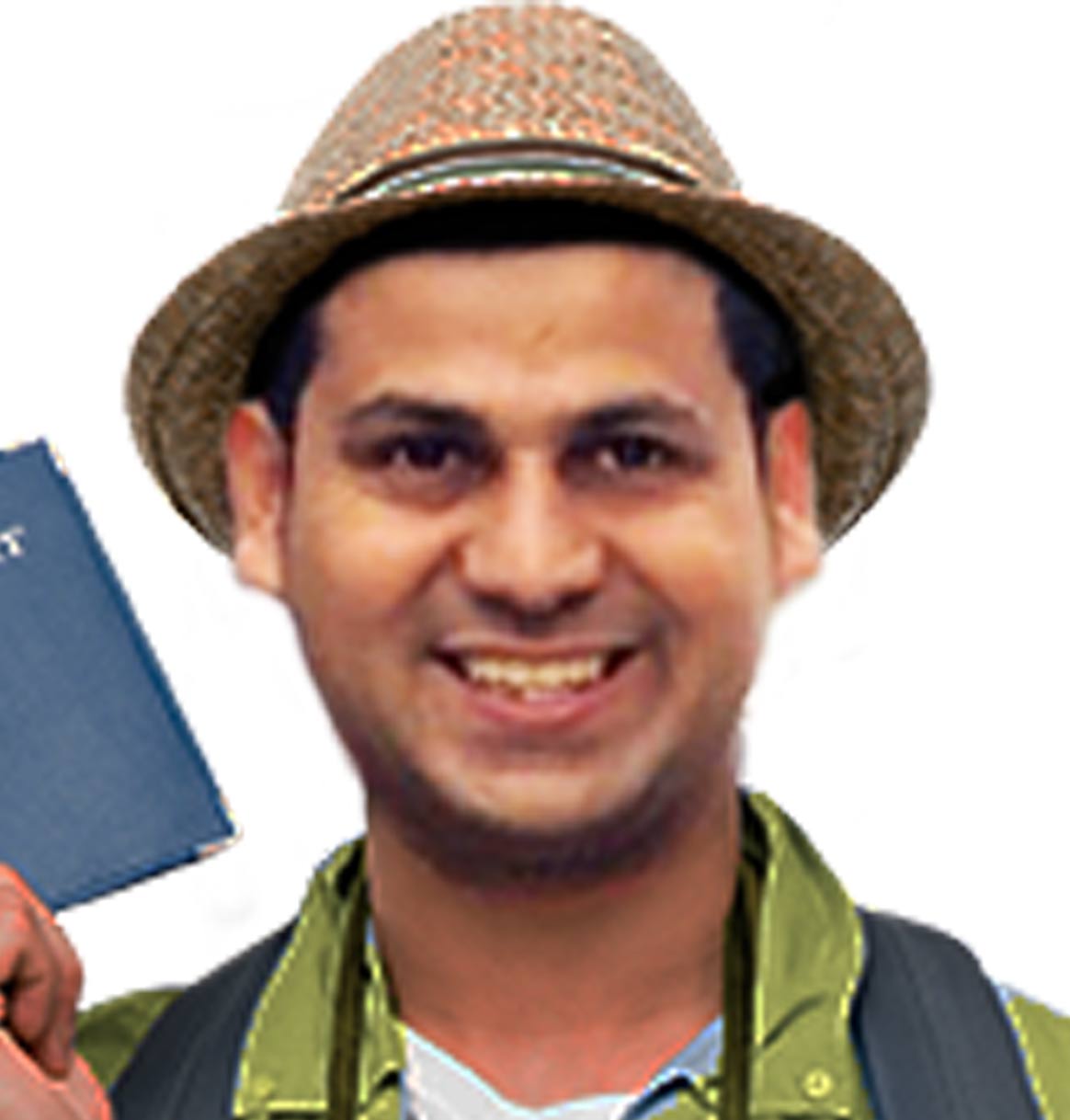 Paras Khanal
Travel Planner