Gokyo Valley Trek 14 Days
trip code: EH092
Day 01:: Arrive to Kathmandu; transfer to your hotel
Flying in to the Himalayan nation Nepal is different in itself. Witness the towering Himalayan giants' minutes before landing Tribhuvan International Airport in Kathmandu if the weather permits. Enjoy the cordial Nepalese welcome in arrival terminals of the airport and drive to your designated hotel in Kathmandu.
Day 02:: Sightseeing tour of Kathmandu
Actually this day is a trek preparation day. As our team is preparing the required permits for Gokyo Valley Trek; you will be taken to Kathmandu most beautiful locales where culture history and the heritage of the ancient town spills in every corner. Explore the biggest hub of Hinduism in Nepal Pashupatinath where travelers get to experience the important aspects of the religion. Stroll around Boudhanath, a large dome shaped stupa where Tibetan culture and Buddhism are seen at its best. Exploration of Kathmandu Durbar Square is an awesome experience as it takes you to Nepal's one of the oldest architectural landmarks where local Newari culture also has been prospering for ages.
Day 03:: Flight to Lukla & trek to Phakding 2,652m/8,700ft
Today the real adventure of the Gokyo Valley Trek begins. Trans Himalayan flight to world's one of the thrilling airports Lukla is sheer aerial adventure of the trek. Lukla is the gateway to Khumbu. As soon as we reach Lukla our trek begins. As the trek to Phakding along Dudh Koshi River Valley begins, the sights of beautifully painted stone mani walls manifest Khumbu culture. The views of Himalayan peaks Kusum Khangkaru and Kongde Ri brings us closer to high altitude nature. A short introductory trek of 3 to 4 hours will bring us to Phakding, which is the home to 500 years old Pemacholing Monastery. Overnight on local teahouse in full board basis.
Day 04:: Trek to Namche Bazaar 3,440m/11,283ft
Today we begin the trek with uphill climb. We cross pass Rimshung Monastery and Uchhecholing Monasteries and arrive the entrance to natural world heritage site Sagarmatha National Park. Trekking further we arrive to Larbha Dobhan. A final steep uphill climb for an hour or so, which offers the first glimpse of Everest throughout brings us to Namche, the legendary Sherpa village of Khumbu. The day's trek is almost 6 hours.
Namche the financial hub of Khumbu has modern faculties like banks, internet cafes, money exchangers and bars. We will stay in a fine teahouse in Namche.
Day 05:: Rest day in Namche Bazaar for acclimatization
We have already reached the altitude of 3440m; hence a day rest to get customized with high altitude is essential. However, we will walk to nearby hotspots around Namche that helps acclimatization and offers an opportunity of cultural exploration. Overnight in Namche.
Day 06:: Trek to Dole 4200m/ 13779ft
Chasing the trail via Khyangjuma that has gentle ups and downs, we arrive to Sanasa. From Sanasa Everest looms right before our eyes. Crossing over Mong La Pass, we reach to Khumjung, a culturally beautiful village at the foothill of Mt. Khumbila. Sliding down to Phortse Tenga and savoring the beauty of nature that include woodlands, mountains, waterfalls and deep valleys we arrive to Dole. Overnight in Dole.
Day 07:: Trek to Machharmo 4470 m/ 14665 ft
The trek today begins with the steep uphill climb along Dudh Koshi River Valley Lhabarma. Enjoying the scenic views of mountains including Cho Oyu, Kantega and Thamserku among others beyond Lhabarma we reach Luza. Chasing the sandy trail we arrive to Machhermo. The view of Dudh Koshi River Valley from Machhermo is simply stunning. Machhermo is the destination in Khumbu with Himalayan Rescue Hospital that provides classes for altitude sickness. Enjoy the stay in Machhermo.
Day 08:: Trek to Gokyo 4790 m/ 15715 ft
Though the trek today doesn't gain much altitude the sights throughout the walk are incredible. While getting 400m high in total we encounter first Lake of Gokyo in about three hours of walk from Machhermo. The view here is amazing as turquoise lake of Gokyo has backdrop of towering Himalayan giant Cho Oyo. Heading further we get to Gokyo Valley, which is a paradise on earth; peaceful and serene in the lap of world's tallest mountains including Everest. Overnight in Gokyo.
Day 09:: A day in Gokyo, hike to Gokyo Ri, Fifth Lake and its surroundings
Today we have an extra day in Gokyo to savor the beauty around Gokyo. The hike to Gokyo Ri 5483m that lies left to Gokyo settlement offers the best 360 degree view of soaring HImalayan giants. Towering Himalayan peaks including Everest, Lhotse, Nuptse, Cho-Oyu, Gyachung Kang and Makalu among others feast our eyes from the top of Gokyo Ri. Moreover, the day walk to fourth lake (Thonak Tsho) and fifth lake (Ngozumba Tsho) lake is awesome. Undeniably one the best views on earth is here. Mt Cho Oyu and the world's biggest Ngozumpa glacier are seen at its best from here. Overnight in a teahouse at Gokyo.
Day 10:: Trek back to Dole 4200m/13779ft
On the retracing trail, which is now downhill we trek back to Dole via Machhermo and Luza. Being used to with the high altitude and walking the trek is relatively easier today. Overnight in Dole.
Day 11:: Trek back to Namche 3440m/ 11,283ft
Continuing to trek along the retracing trail, we cross over Mong La Pass and arrive to Sanasa. Further trekking downhill, we arrive to Namche for the overnight stay. This time in Namche we have no restrictions. Enjoy the success and explore around the Sherpa hotspot to breathe the freshest Everest air, to feel the nature closely and to meet the families of bravest mountaineers on earth. Overnight in Namche.
Day 12:: Trek to Lukla
The last day of the trek ends at Lukla with pleasant and easy downhill walk. On arriving Lukla enjoy your success and have a pleasant time strolling around the small Himalayan town as you are still in the lap of Himalayas savor the best of it for the last time in Lukla.
Day 13:: Fly back to Kathmandu
With loads of memories and adventurous experiences we fly back to Kathmandu. On your arrival at Kathmandu we will escort you to your hotel. Enjoy the farewell dinner with us in typical Nepali restaurant in Kathmandu in the evening.
Day 14:: Depart Kathmandu
Our representative will escort to the airport for the final see off to your onward destination. Have a safe flight and visit Nepal time and again we have much more to show.
TALK TO OUR ecstatic Himalaya EXPERT
We're here to chat about your next big idea.
Otherwise, email us anytime. On average, we provide quotes within 6 hours during business hours and the next day during off business hours.
Privately guided trips allow you to be in control of all the details of your trip - departure times, accommodations, extra nights, extra activities, extra experiences - what you want and how you want it.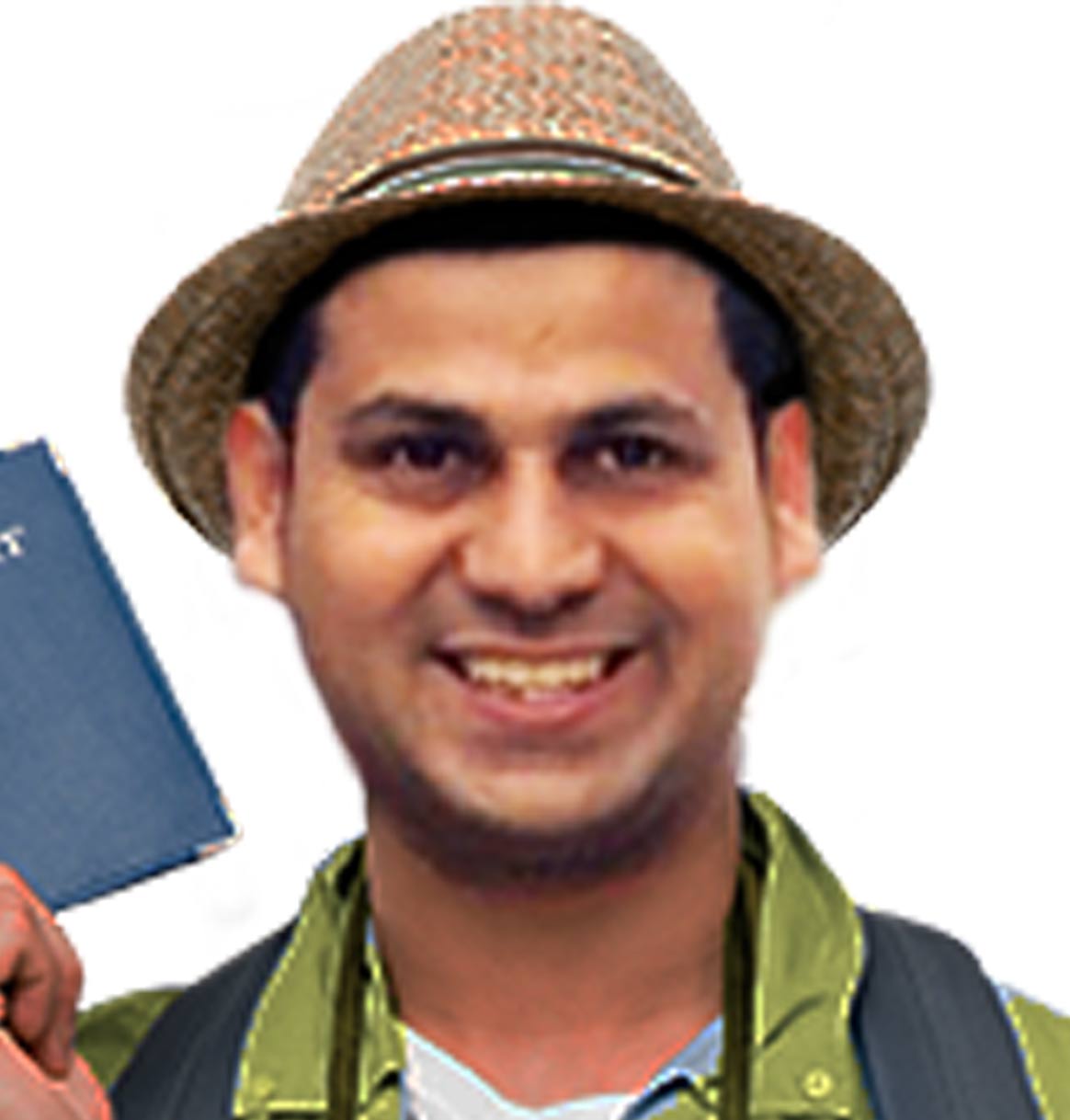 Paras Khanal
Travel Planner