Annapurna Circuit Trek 19 Days
trip code: EH094
Day 01:: Arrive to Kathmandu; transfer to your hotel
Flying into the Himalayan nation Nepal is different in itself. Witness the towering Himalayan giant's minutes before landing Tribhuvan International Airport in Kathmandu if the weather permits. Enjoy the cordial Nepalese welcome in arrival terminals of the airport and drive to your designated hotel in Kathmandu.
Day 02:: Sightseeing tour of Kathmandu
Actually this day is a trek preparation day. As our team is preparing the required permits for Annapurna Base Camp Trek; you will be taken to Kathmandu most beautiful locales where culture history and the heritage of the ancient town spills in every corner. Explore the biggest hub of Hinduism in Nepal Pashupatinath where travelers get to experience the important aspects of the religion. Stroll around Boudhanath, a large dome shaped stupa where Tibetan culture and Buddhism are seen at its best. Exploration of Kathmandu Durbar Square is an awesome experience as it takes you to Nepal's one of the oldest architectural landmarks where local Newari culture also has been prospering for ages.
Day 03:: Drive to Besisahar & Trek to Khudi 760m/2493ft
Annapurna Circuit Trek begins with the scenic ride to Besisahar. Driving along Prithiwi Highway until Dumre and deviating north we arrive to Besisahar. Six hours of bus ride will be right away followed by short trek to Khudi. Trail along the bank of rushing Marsyangdi River brings us Khudi. We pass by beautiful terraced fields, traditional villages during the day's trek. Arriving at Khudi offers the outstanding view of mesmerizing Manaslu Range. Overnight at Khudi.
Day 04:: Trek to Chamje 1410m/4655ft
Trekking along steep uphill trail to avoid walk along dusty motorway, we arrive to the village of Sikrung. Beyond Sikrung we chase the traditional Annapurna Circuit Trek trail and arrive to Bahundanda. Enjoy the beautiful landscapes of green terraced fields, deep and wide Marsyangdi River Valley and Manaslu Himalayan Range during today's trek. We cross by traditional villages like Ghermu & Jagat. An hour long steep uphill climb from Jagat would bring us to Chamje. Overnight stay at Chamje.
Day 05:: Trek to Dharapani 1960m/6522ft
Today the trek heads up into Manang Region. Trekking north, we cross by farmlands of corn potatoes and then enter the trail inside beautiful rhododendron forest to emerge out to the peaceful village, Tal. We have our lunch at Tal and then trek for another three hours to reach Dharapani. The views of Manaslu Region Himalayan peaks would frequently offer treat to our eyes.
Day 06:: Trek to Chame 2670m/8759ft
Trek today cross passes villages like Bagarchap and Danakyu in the first two hours. Then the steep upper trail brings us to quiet village, Koto. An hour long trek from Koto takes us to Chame. Throughout the day's trek we savor the magnificent views of Himalayan peaks that include Annapurna II and IV and Lamjung Himal among others. Overnight at Chame.
Day 07:: Trek to Pisang 3300m/10826ft
Exiting out of Chame, we cross pass Bhartang and arrive to Dukur Pokhari. The trail until Dukur Pokhari offers wonderful views of dense woodlands of Annapurna Conservation Area Project. The scattered settlements of wide Marsyangdi Valley and the soaring Himalayan Peaks always make this portion of the trek awesome. From Dukur Pokhari the uphill trail brings us to Upper Pisang, where we will be staying for the night. Upper Pisang caters the demanding full view of Annapurna Circuit, enjoy it.
Day 08:: Trek to Manang 3540m/11614ft
Now the real rewards of Annapurna Circuit Trek begin to unfold. The villages we cross by like Ghyaru, Ngawal, Humde and Braga are traditionally rich and beautifully located. The Himalayan panorama dominated by Pisang Peak, Annapurna and Tent Peak among others are exceptionally beautiful. Plus, the visit to ancient monastery in Braga offers opportunity to witness Tibetan culture. After the pleasant trek throughout the day followed by final uphill stretch from Braga, we arrive to Manang for the overnight stay.
Day 09:: Rest day in Manang for acclimatization
Today, we have a day rest at Manang for acclimatization before heading towards the elevated Pass Thorung La. However, it doesnt refer to stay in the teahouse. Instead, we go for the short hiking to Gangapurna Lake and Bhojo Gompa. We would also explore the popular village of Annapurna Circuit trail for the rest of the day that guarantees beautiful culture and informatio on high altitude treks.
Day 10:: Trek to Yak Kharka 4018m/13182ft
Exiting northwest out of Manang we trek along the uphill trail to the small settlement, Yak Kharka. Walking through the bushy jungle of short juniper trees we arrive to Ghusang. Then crossing Ghyanchang Khola we head along the steep uphill trail to Yak Kharka. This section of the trek has long line of mani walls. Yak Kharka has limited teahouses with basic facilities. Yak Kharka is the grazing land for yaks, an economically and householdwise integral highland animal. Hence, we shall feel being very close to Himalayas today onwards.
Day 11:: Trek to Thorung Phedi Trek 4450m/14599ft
Cross passing the long line of mani walls and the landslide region we arrive to Letdar, a small highland village in the region. Continuing to trek up along the landslide region we arrive to Thorung Phedi. It is in fact a trekkers camp that offers food, accommodation and the sensation of relief after a long tiring day. We stay here for the night. It lies right at the foot of Thorung La Pass we shall be conquering the next day.
Day 12:: Trek to Muktinath 3760m/12335ft via Thorung La Pass 5416m/17769ft
The big day of the trek is finally here. Today we start early and begin the trek uphill. We cross pass the high camp and begin to walk along the steep uphill trail. Uphill trail towards Thorung La Pass has dicey & icy section, which make trek even more challenging. However, the nature's display of Himalayan giants would continously motivate us until we reach the top of Thorung La Pass, 5416m, which is the highest point of the trek. Enjoy the magnificence of nature from the top of the pass. Himalayan peaks looming high as if they can touch the sky and the beauty of deep turquiose Tilicho lake would spellbind trekkers. We also witness the trace of human culture existing at such height seeing the fluttering prayer flags at the top of the pass.
Then we begin to slide down towards Muktinath. Muktinath is the common pilgrimage for Hindus, Buddhist, Bons and Jains. We shall accommodate ourselves in a teahouse at Muktinath.
Day 13:: Trek to Marpha 2670m/8759ft
The trek today slides down to Marpha via a wonderful village of Kagbeni. Explore around the ancient looking hamlet and continue the trek downhill until we reach Marpha. Marpha is another cultural village and the famous apple garden of the country. Enjoy the home baked apple cake at Marpha and if you desire taste the home brewed apple wine here.
Day 14:: Trek to Ghasa 2010m/6594ft
As we descend down towards Ghasa, we arrive to the famous Thakali Village of the region Tukuche. Tukuche houses Ekai Kawaguchi Residence Museum & Tukuche Gompa. Explore around. We take a breather at Kobang to sight the dazzling view of Mt. Dhaulagiri, sacred cave of Guru Rimpoche and equally holy Makilakhang Gompa and Mahalaxmi temple. Futher trekking downhill via Kalopani, Dhaiku and Chhyo, we arrive to Ghasa. Ghasa is bird watchers paradise. If you are one of them enjoy the stay in Ghasa
Day 15:: Trek to Tatopani 1190m/3904ft
After trekking across Thorung La Pass this section of the trek is a peice of cake. Cross passing villges like Kopchepani and Pairathapto we arrive to cascading Rupse Fall. Savor the beauty of highest fall of the region and resume the trek. Walk above 2200m high gorge where Kali Gandaki River silently flows and arrive to Tatopani. The himalayan peaks above 8000m and the deep gorge makes this trail a heavenly trail. At Tatopani we dip into hot water pond, which presumes to heal all kind of sickness. Hence the devotee throng to this place for holy water dip.
Day 16:: Trek to Ghorepani 2860m/9383ft
Today we descend down to Gharkhola and then continue to descend to Ghara. Further downhill trail stretches to Ghorepani via Deurali. Ghorepani is small village at the foothill of towering 8000m plus peaks. Ghorepani refers to horse water and hence we see plenty of horses in Ghorepani. Overnight in Ghorepani.Day
Day 17:: Morning Hike to Poon Hill 3210m & trek to Hille; Drive to Pokhara
Today, we wake up before dawn and begin the trek towards Poonhill. A uphill walk before the dawn for 45 minutes brings us to Poonhill right before the sunrise. Witness the most beautiful sunrise of your life. The mountains glitter like gold in the beginning and slowly their color changes as the sun goes higher. As the sun sets high enough, the white walls almost 270 degress sprawl right before our eyes. The view is amazing. Annapurna, Dhaulagiri, Nilgiri, Fishtail, Dhampus and many other Himalayan peaks loom high up in the sky rising from the base at green hills. Enjoy the morning here and trek down back to Ghorepani. Enjoy the breakfast in your teahouse and resume the trek. We trek downhill throughout the day and arrive to Hille. The last two hours of the trek that descends steeply down to Hille via Thirkhedunga would offer a last challenge of Annapurna Circuit Trek. We board the vehicle from Hille, which will drive us back to Pokhara.
Day 18:: Drive back to Kathmandu
Today we drive back to Kathmandu along Prithiwi Highway. Enjoy the drive. As we arrive Kathmandu we will check into our hotel in the city. Evening on your own.
Day 19:: Depart Kathmandu
Today, we will escort you back to the Tribhuvan International Airport. Fly home safely and visit Nepal time and again.
TALK TO OUR ecstatic Himalaya EXPERT
We're here to chat about your next big idea.
Otherwise, email us anytime. On average, we provide quotes within 6 hours during business hours and the next day during off business hours.
Privately guided trips allow you to be in control of all the details of your trip - departure times, accommodations, extra nights, extra activities, extra experiences - what you want and how you want it.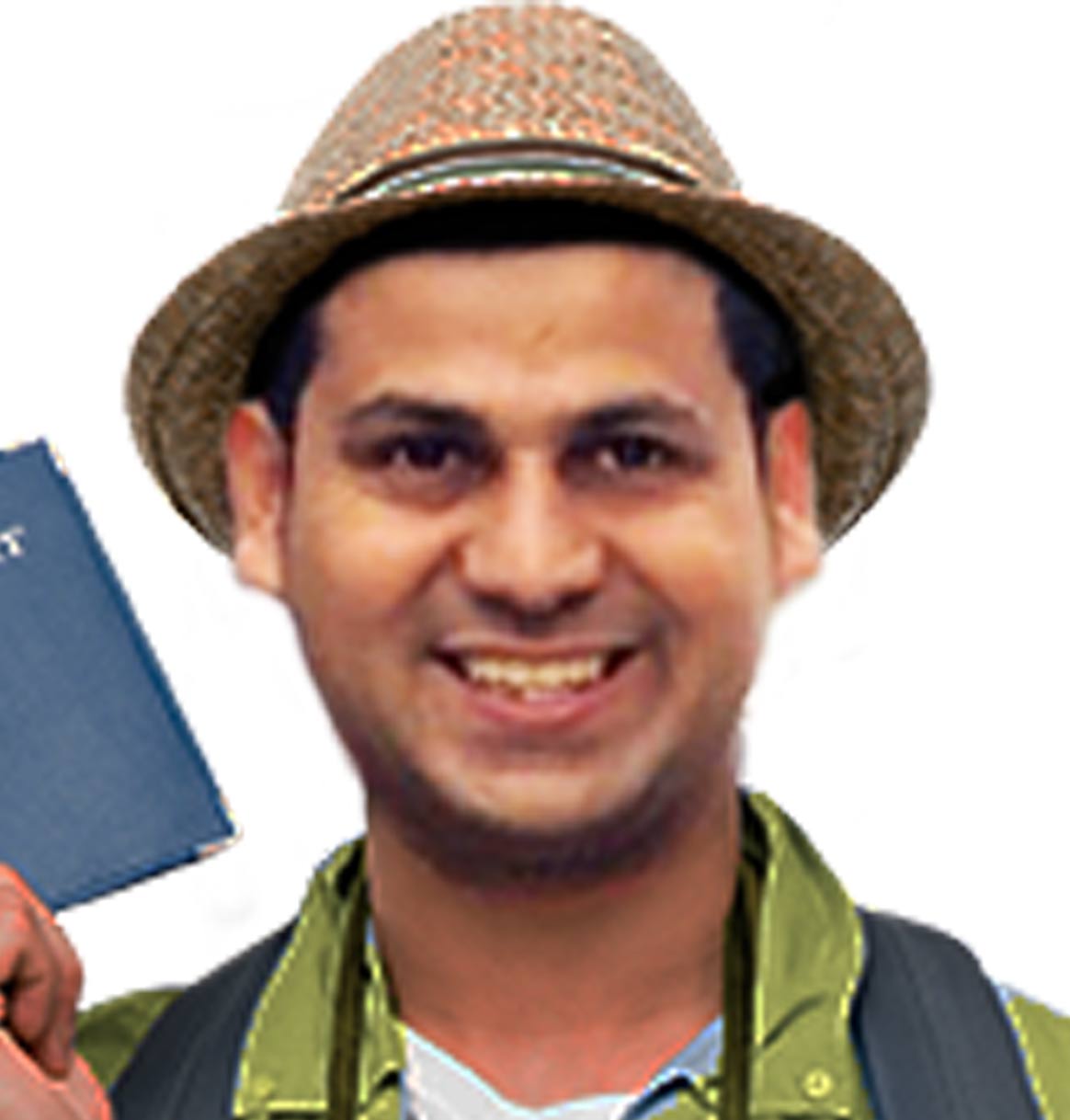 Paras Khanal
Travel Planner