Everest Base Camp Trek from Jiri 22 Days
trip code: EH093
DAy 01:: Arrive to Kathmandu 1400m transfer to hotel
Flying in to the Himalayan nation Nepal is different in itself. Witness the towering Himalayan giant's minutes before landing Tribhuvan International Airport in Kathmandu if the weather permits. Enjoy the cordial Nepalese welcome in arrival terminals of the airport and drive to your designated hotel in Kathmandu.
Day 02:: Sightseeing tour of Kathmandu
Actually this day is a trek preparation day. As our team is preparing the required permits for Everest Base Camp Trek; you will be taken to Kathmandu most beautiful locales where culture history and the heritage of the ancient town spills in every corner. Explore the biggest hub of Hinduism in Nepal Pashupatinath where travelers get to experience the important aspects of the religion. Stroll around Boudhanath, a large dome shaped stupa where Tibetan culture and Buddhism are seen at its best. Exploration of Kathmandu Durbar Square is an awesome experience as it takes you to Nepal's one of the oldest architectural landmarks where local Newari culture also has been prospering for ages.
Day 03:: Scenic Drive to Jiri 1905m/6250ft
Everest Base Camp Trek from Jiri starts with six hours long drive along the mountainous road. Driving along the highway that runs above Dudh Koshi River, the drive highlights green vegetation, terraced farms, cascading waterfalls, towering silvery Himalayas and the raging rivers. On reaching Jiri we check into our hotel and set out to explore this beautiful mountain town.
Day 04:: Trek to Deurali 2250m/7381ft
After exploring the popular places in Jiri, we set off for the first day's trek. A short introductory trek, that goes along the rolling green hills, cross passes rivers and rivulets we arrive to Deurali. A hilltop village for overnight stay, Deurali welcomes you cordially with the best possible facilities of accommodation and food.
Day 05:: Trek to Sete 2575m/8448ft
Walking up and down for few times through the dense forest we arrive to village named Brnda. Continuing the trek we arrive at Dokharpa, where we stop for lunch. Beyond Dokharpa, we cross Likhu River and climb uphill on the ridge to Kenja. Uphill climb further brings us to Chimbu. The final descend brings us to Sete for the overnight stay.
Day 06:: Trek to Junbeshi Trek 2680m/8448ft
The day's trek is strenuous relatively. However, it begins to showcase the Himalayan culture. Cross passing villages like Dakachu and Goyam, we climb over 3530m high pass Lanjura La. Walking uphill through the forest of Rhododendron, Fir, Pine, Magnolia, Maple and Birch we arrive to Lamjura Danda. Trekking further we reach to Taktor village and then begin to chase the trail beside Taktor River that leads to Junbesi. Junbesi is a small Sherpa Village, where we will stay for the night.
Day 07:: Trek to Nunthala 2220m/7283 ft.
After a short uphill climb from Junbesi, we cross Junbesi River and descend down to Phurteng. Savor the stunning views of Everest, Thamserku and Mera peaks from Phurteng and then climb uphill to Salung. Trekking further we cross we cross Gongbo Khola and reach Ringmu. It is a wonderful village housing traditional monastery, religious chortens, information boards for tourist and a local Cheese Factory. Beyond Ringmu, we climb up to Taksindu La Pass 3670m and then slide down to Nunthala through the dense woodlands of conifer and rhododendron. The trails beside terraced fields signify that we arrive at Nunthala. Overnight at Nunthala.
Day 08:: Trek to Bupsa 2360m/7742ft
Today the trek mostly has ascending high trails. However, the stunning view of Mt. Khumbila as we reach Bupsa at the end of the day's trek is the biggest reward. Overnight in Bupsa.
Day 09:: Trek to Puiyan 2796m/9173 ft
Heading up from Bupsa, we cross Kanre River. Now chasing the slippery trail we reach the wooden bridge over Piya River. Beyond that we climb uphill to Puiyan village. We will stay overnight in teahouse in Puiyan on full board basis.
Day 10:
Day 10:: Trek to Phakding 2610m/8562 ft
The day's trek begins with uphill climb to Chutok La Pass 2945m. Descending down we arrive to Surkhe, which lies at the tributary of the Dudh Koshi and Kamswaya River. Trekking further we cross the brigde over Kamswaya River. The final walk to Phakding from here has monasteries and chortens on sides. Phakding is the first stopover of regular Everest Base Camp Trek. It houses a 500 year old monastery and caters the beautiful first view of Kongde Ri Peak. Overnight in Phakding.
Day 11:: Trek to Namche Bazaar 3,440m/11,283ft
Today we begin the trek with uphill climb. We cross pass Rimshung Monastery and Uchhecholing Monasteries and get to the entrance to natural world heritage site Sagarmatha National Park. Trekking further we arrive to Larbha Dobhan. A final steep uphill climb for an hour or so, which offers the first glimpse of Everest throughout brings us to Namche, the legendary Sherpa village of Khumbu. The day's trek is almost 6 hours.
Namche the financial hub of Khumbu has modern facilties like banks, internet cafes, money exchangers and bars. We will stay in a fine teahouse in Namche
Day 12:: Rest day in Namche Bazaar for acclimatization
We have already reached the altitude of 3440m; hence a day rest to get customized with high altitude is essential. However, we will walk to nearby hotspots around Namche that helps acclimatization and offers an opportunity of cultural exploration. Overnight in Namche.
Day 13:: Trek to Tengboche 3,870m/12,694ft
Trekking along the pleasant trails of Sagarmatha National Park with frequent sights of Himalayan peaks including Ama Dablam, Lhotse Shar, Taboche, Kangtega and Thamserku we arrive to Phunke Tenga. A gentle push across an Army barrack brings us to Tengboche. Tengboche houses an ancient monastery with Mt. Amadablam at its backdrop, which is the prime highlight of Tengboche. On full board basis we will stay in a teahouse in Tengboche
Day 14:: Tengboche to Dingboche Trek 4,360 m/14,300 ft
Climbing up along the stony steps we arrive to Devoche where the head office of Sagarmatha National Park settles. Continuing the uphill walk we come across the largest Sherpa Village of Khumbu, Pangboche, which also houses hugely religious monastery of the region. Then the walk on flat trails with some gentle uphill and downhill walk we arrive to Devoche.
Day 15;: Acclimatization in Dingboche
One more rest day in Devoche is necessary for high altitude acclimatization. However, a short day hike to Chukkung that takes around 3 to 4 hours would help you to properly acclimatize. East to Devoche within Imja Tse Valley Chukkung nestles. Savor the beauty of snowcapped peaks and glaciers from Chukkung and walk back to Devoche for overnight stay.
Day 16: Trek to Lobuche 4900m/16,207 ft
Today's early trek include the pleasant walk aside the beautifully lined mani walls. However the harder part of the trek begins as the trek enters the trail of Three Passes Trek. Cross passing Kongma La Pass 5535m, we arrive to High Camp at Lobuche for the overnight stay.Day 17:
Day 17:: Trek to Gorakshep 5170 m/16,961 ft & then to Everest Base Camp 5364 m/17,594 ft; Return to Gorakshep for overnight stay
Today is the biggest day of the trek as it takes you to the most important landmark of Everest Base Camp Trek - the base of world's crown, Everest. Climbing uphill we cross pass Lobuche Pass 5110m and Gorakshe Tsho Lake and arrive to Gorakshep. Stopping for the lunch break at Gorakshep, we resume our trek towards Everest Base Camp. Cross passing Mt. Pumori Base Camp and walking along the glacial trail for a while we arrive to Everest Base Camp. Enjoy the success and have the closest view of Everest from the colorfully tented Everest Base Camp before we walk down to Gorakshep for the overnight stay.
Day 18:: Trek to Kalapatthar 5545m and trek back to Periche 4280 m/14,070 ft
Today we get to the maximum altitude Everest Base Trek takes us to. Early morning walk along the rocky trail brings us to Kalapatthar, the mountain also known as Black Diamond among trekkers. Savor the whole view of Everest from its base to top from Kalapatthar. Then descend down to Periche along the retracing trail.
Day 19:: Trek to Namche 3440m
Today the trek brings us back to Namche. Along the trail of classic Everest Base Camp Trek, we arrive to Namche. This time in Namche we have no restrictions. Enjoy the success and explore around the Sherpa hotspot to breathe the freshest Everest air, to feel the nature closely and to meet the families of bravest mountaineers on earth. Overnight in Namche
Day 20:: Trek to Lukla
The last day of the trek ends at Lukla with pleasant and easy downhill walk. On arriving Lukla enjoy your success and have a pleasant time strolling around the small Himalayan town as you are still in the lap of Himalayas savor the best of it for the last time in Lukla.
Day 21:: Fly back to Kathmandu
With loads of memories and adventurous experiences you fly back to Kathmandu. On your arrival at Kathmandu we will escort you to your hotel. Enjoy the farewell dinner with us in typical Nepali restaurant in Kathmandu in the evening.day
Day 22:: Depart Kathmandu
Our representative will escort to the airport for the final see off to your onward destination. Have a safe flight and visit Nepal time and again we have much more to show.
TALK TO OUR ecstatic Himalaya EXPERT
We're here to chat about your next big idea.
Otherwise, email us anytime. On average, we provide quotes within 6 hours during business hours and the next day during off business hours.
Privately guided trips allow you to be in control of all the details of your trip - departure times, accommodations, extra nights, extra activities, extra experiences - what you want and how you want it.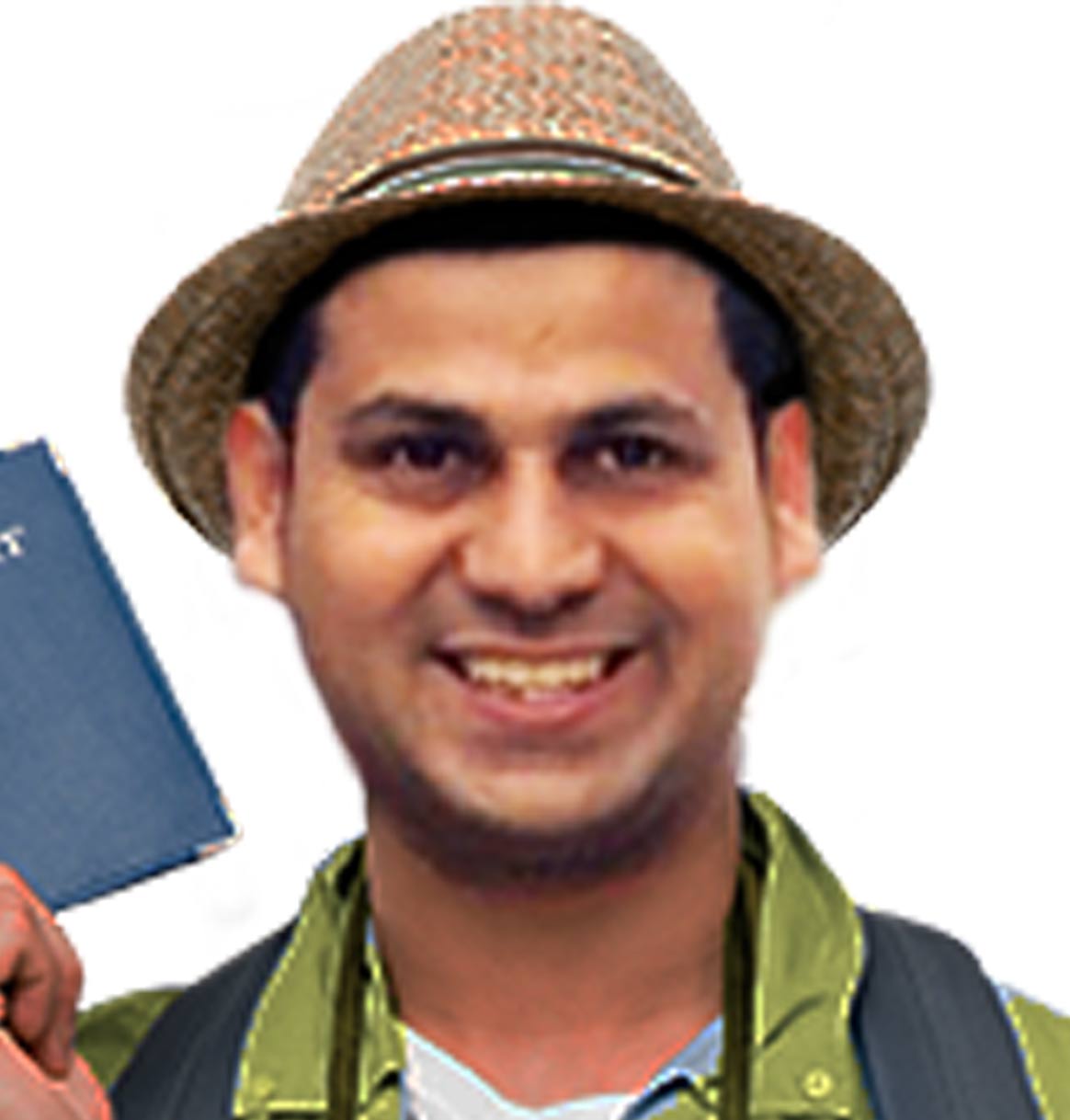 Paras Khanal
Travel Planner