Everest Luxury Trek 12 Days
trip code: EH085
Day 01:: Arrive to Kathmandu; transfer to your hotel
Flying in to the Himalayan nation Nepal is different in itself. Witness the towering Himalayan giant's minutes before landing Tribhuvan International Airport in Kathmandu if the weather permits. Enjoy the cordial Nepalese welcome in arrival terminals of the airport and drive to your designated hotel in Kathmandu.
Day 02:: Sightseeing tour of Kathmandu & trek preparation day
Actually this day is a trek preparation day. As our team is preparing the required permits for Everest Luxury Trek; you will be taken to Kathmandu most beautiful locales where culture history and the heritage of the ancient town spills in every corner. Explore the biggest hub of Hinduism in Nepal Pashupatinath where travelers get to experience the important aspects of the religion. Stroll around Boudhanath, a large dome shaped stupa where Tibetan culture and Buddhism are seen at its best. Exploration of Kathmandu Durbar Square is an awesome experience as it takes you to Nepal's one of the oldest architectural landmarks where local Newari culture also has been prospering for ages.
Day 03:: Flight to Lukla & trek to Phakding 2,652m/8,700ft 3-4 hrs trek
Today the real adventure of the Everest Luxury Trek begins. Trans Himalayan flight to world's one of the thrilling airports Lukla is sheer aerial adventure of the trek. Lukla is the gateway to Khumbu. As soon as we reach Lukla our trek begins. As the trek to Phakding along Dudh Koshi River Valley begins, the sights of beautifully painted stone mani walls manifest Khumbu culture. The views of Himalayan peaks Kusum Khangkaru and Kongde Ri brings us closer to high altitude nature. A short introductory trek of 3 to 4 hours will bring us to Phakding, which is the home to 500 years old Pemacholing Monastery. Over night in a luxury teahouse in full board basis.
Day 04:: Trek to Namche Bazaar 3,440m/11,283ft 5-6 hrs trek
Today we begin the trek with uphill climb. We cross pass Rimshung Monastery and Uchhecholing Monasteries and get to the entrance to natural world heritage site Sagarmatha National Park. Trekking further we arrive to Larbha Dobhan. A final steep uphill climb for an hour or so, which offers the first glimpse of Everest throughout brings us to Namche, the legendary Sherpa village of Khumbu. the day's trek is almost 6 hours.
Namche the financial hub of Khumbu has modern facilties like banks, internet cafes, money exchangers and bars. We will stay in a fine teahouse in Namche.
Day 05:: Rest day in Namche Bazaar for acclimatization
We have alraedy reached the altitude of 3440m, hence a day rest to get customized with high altitude is essential. However, we will walk to nearby hotspots around Namche that helps acclimatization and offers an opprtunity of cultural exploration. Overnight in Namche.
Day 06:: Trek to Tashinga 3440m/11318ft 2-3 hrs trek
Trek to Tashinga begins with the uphill ascend. As we climb up we savor incredibly wonderful first views of Mount Ama Dablam, Lhotse Shar, Taboche, Kangtega and Thamaserku among other. continuing to trek further we arrive to Tashinga via Khyangjuma. Overnight in a luxury lodge at Tashinga.
Day 07:: Trek to Mende 3700m/ 12139 ft 5-6 hrs trek
We begin the trek on the retracing trail to Khyangjuma. From Khyangjuma, we head towards Khumjung Village, culturally rich village of Khumbu. On reaching Khumjung, we explore Khumjung Hospital and Government Yak Farm. Then we head towards Syangboche.Descending down from Syangboche, we arrive to Zorak and the final push uphill brings us to Mende. The trail to Mende is spiritual as the tail has several chortens, monasteries and long line of sacred mani walls. Laudo Gompa and Phurte are worthwhile exploring. On reaching Mende we stay overnight in a luxury teahouse.
Day 08:: Trek to Thame 3820m/ 12532ft 4-5 hrs trek
Today's trek most of the times has gentle uphill climbs. Crossing Thesebu and Chhujungma Rivers we arrive to Thame. The entire trek fascinates us with the awe-inspiring views of Himalayan peaks. On arriving Thame we we set out to explore Thame Gompa and local power house. Overnight in a luxury lodge at Thame.
Day 09:: Trek to Phakding 2610 m/ 8562 ft 3-4 hrs trek
Via Pare and Samsing we trek down to Kongde. Savor the magnificent view of Everest and Kongde Ri from Kongde. Then the trek descends down to Phakding via Toktok. Rimishung Monastery and 500 years old Pemacholing Monastery are the prime highlights of today's trek. Stay in a luxury teahouse at Phakding.
Day 10:: Trek to Lukla 2-3 hrs trek
The last day of the trek ends at Lukla with pleasant and easy downhill walk. On arriving Lukla enjoy your success and have a pleasant time strolling around the small Himalayan town as you are still in the lap of Himalayas savor the best of it for the last time in Lukla.
Day 11:: Fly back to Kathmandu
With loads of memories and adventurous experiences fly back to Kathmandu. On your arrival at Kathmandu we will escort you to your hotel. Enjoy the farewell dinner with us in typical Nepali restaurant in Kathmandu in the evening.
Day 12:: Depart Kathmandu
Our representative will escort to the airport for the final see off to your onward destination. Have a safe flight and visit Nepal time and again we have much more to show.
TALK TO OUR ecstatic Himalaya EXPERT
We're here to chat about your next big idea.
Otherwise, email us anytime. On average, we provide quotes within 6 hours during business hours and the next day during off business hours.
Privately guided trips allow you to be in control of all the details of your trip - departure times, accommodations, extra nights, extra activities, extra experiences - what you want and how you want it.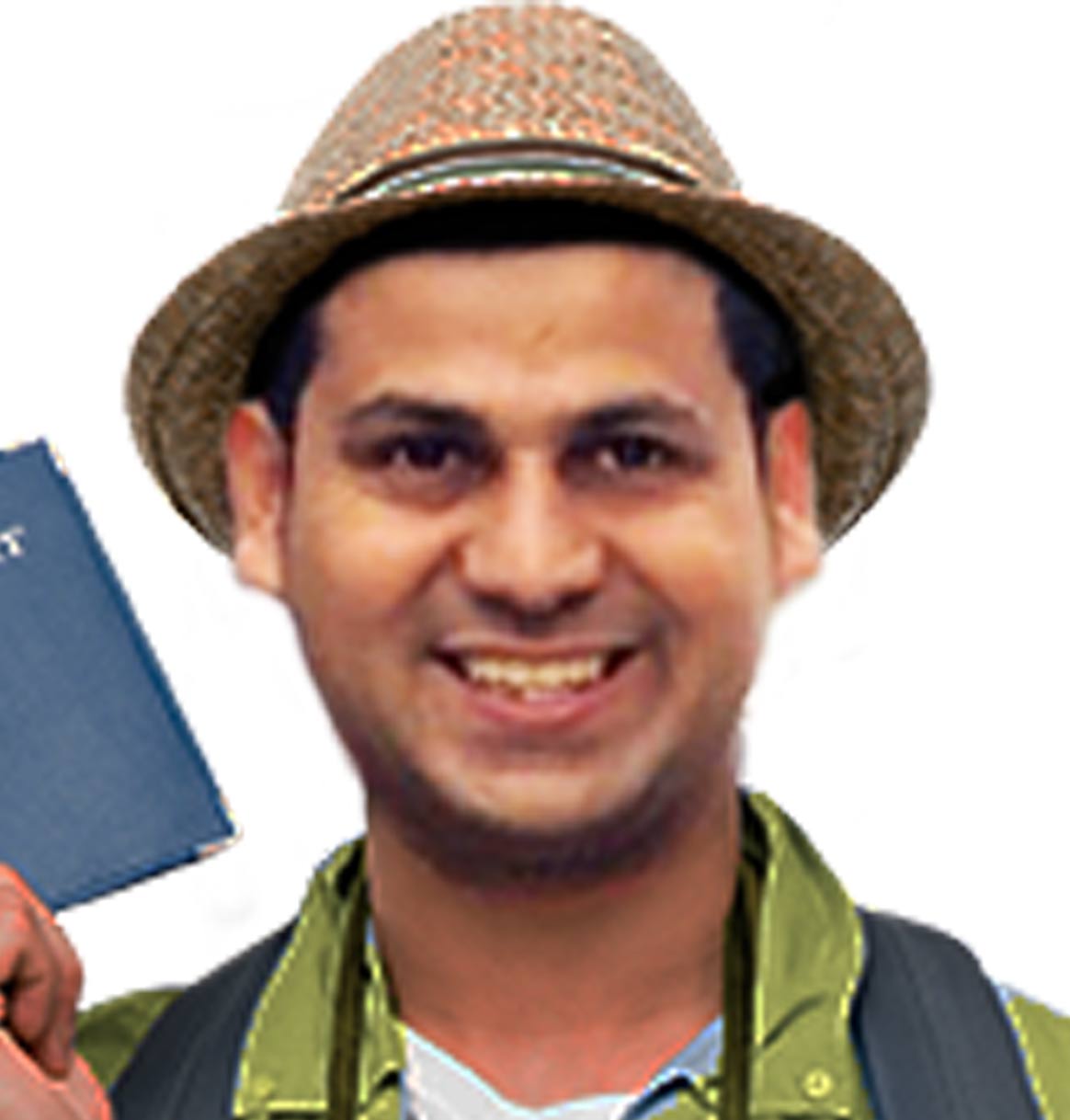 Paras Khanal
Travel Planner