Phoksundo Lake Trek 11 Days
trip code: EH0113
Best Months
March-May | Sept-Nov
Grade / Difficulty
Moderate
Accomodation
Hotels/Local Tea-houses
Description
A week in Lower Dolpo that highlights scenic Phoksundo Lake & the incredibly authentic Bon culture, Phoksundo Lake Trek
It is the shortest approach to Nepal's one of the fascinating lakes, which lies in the wilderness of Lower Dolpo. Dolpo is the biggest district in Nepal with least population density. It is the home to untouched natural wonders, authentic Bon culture and Tibetan Buddhism. Dolpo showcases traditional Tibetan culture beyond Tibet. Phoksundo Lake Trek is the easiest trek in Dolpo Region. The trek however is considered moderate trek of Nepal. The trek doesn't involve any high passes and everyday walk during the trek is relatively easy and requires no extreme effort.
The prime highlight of the trek is Phoksundo Lake itself. The turquiose lake surrounded by Mt Kanjiroba and its nearest neighbors, Phoksundo Lake has three unique features. Devoid of life, changing its colors during different times of the day & the way water freezes here during winter inside out are three unique attributes of the lake. The trek also highlights scenic views of green woodlands of Shey Phoksundo National Park & towering snowcapped peaks of western Nepal and beyond border. The trek is also significant culturally. The diverse cultures can be observed during the trek. During the early trek, we witness the typical "Khas" culture in villages like Dunai & Juphal. As we go higher the culture of region changes with the change in geographic scenarios. Most prominent cultural aspect trekkers crave to see during Phoksundo Lake Trek is the Bon culture. In Ringmo, the village that lies on a spur above Phoksundo Lake is the home to Bon religion. Bon Monastery in the village and Bon culture in every household are the important highlights of the trek
The trek begins from Juphal and ends at Juphal after exploring a week in the wilderness of Lower Dolpo.
Trip Overview
Arrive to Kathmandu; transfer to your hotel
Flying in to the Himalayan nation Nepal is different in itself. Witness the towering Himalayan giant's minutes before landing Tribhuvan International Airport in Kathmandu if the weather permits. Enjoy the cordial Nepalese welcome in arrival terminals of the airport and drive to your designated hotel in Kathmandu.
Sightseeing tour of Kathmandu & Trek preparation day
Actually this day is a trek preparation day. As our team is preparing the required permits for Phoksundo Lake Trek; you will be taken to Kathmandu most beautiful locales where culture history and the heritage of the ancient town spills in every corner. Explore the biggest hub of Hinduism in Nepal Pashupatinath where travelers get to experience the important aspects of the religion. Stroll around Boudhanath, a large dome shaped stupa where Tibetan culture and Buddhism are seen at its best. Exploration of Kathmandu Durbar Square is an awesome experience as it takes you to Nepal's one of the oldest architectural landmarks where local Newari culture also has been prospering for ages.
Fly to Nepalgunj 45mins flight & then to Juphal 35 mins flight 2475m; Trek to Dunai (2145m) 3 hrs Trek
Today we drive to domestic section of TIA. From TIA we fly to Nepaljung. A major town in the western Terai of Nepal is the gateway to treks in western Himalayas & Bardiya National Park. From Nepaljung we take a 35 minutes flight to Juphal- the starting point of Phoksundo Lake Trek. Treading southeast across Thuli Bheri Valley, we cross pass traditional village Kalagauda. Chasing the trails along the southern bank of Bheri River we arrive to Dunai via Roop Ghar. Overnight in Dunai.
Trek to Chhepka (2670m) 6-7 hrs trek
Trekking downhill through the streets of Dunai, we arive to Bheri River. Crossing it over a bridge we trek upstream for almost an hour to arrive Sulighat. Continuing to head north, we reach Phoksundo National Park Check Post. Then we begin to trek uphill on a rock strewn trail that stretches above snaky Suli Ghad River. Penetrating the woods of hemp, we arrive to Kageni. Now the trek begins to unfold its magnificent highlights as it goes through pleasant woods of oaks and maples. Furthermore, Tibetan culture begins to be seen gradually as we go higher to Shyanta 2520m. The last uphill push for almost 90 minutes on a narrowed trail brings us to Chhepka 2670m. Overnight in Chhepka.
Trek to Jharana Hotel 3350m 5-6 hrs Trek
Today the trek climbs high through the forests of huge cedars to Kharka. Kharka is the winter home to natives of Ringmo. From here the gradual uphill climb takes us to open field (Jhanrana Hotel)at above 3350m, which is the vantage point to see the highest fall in Nepal (330m high) The distant yet beautiful first view of Phoksundo Lake comes into our sight from here. Overnight at Jharana Hotel.
Trek to Ringmo 3460m 5-6 hrs Trek
Sliding steeply down across birch forest we arrive to Phoksundo khola. Crossing the river over a bridge we chase the trail on north bank of the river we reach to the point from where the river exits out of Phoksundo Lake. Furthermore, the trek through the river gully we arrive to the wide meadows of of Ringmo. Ringmo is one of the most popular and authentic Bon Villages of the region. Overnight in Ringmo.
Explore around Phoksundo Lake
A big and the most rewarding day of Phoksundo Lake Trek is here. Naturally and culturally you shall witness the exception. We begin with the exploration of Ringmo. Ringmo is typical Bon Village, where bon culture of practicing shamanism is still the way of life. Traditional houses, attires, ornaments and household activities would amaze you in Ringmo. Then we walk up to Tshowa Monastery that sits atop a ridge above Phoksundo Lake. 900 years old Bon Gompa is undoubtedly a treasure to explore for trekkers. After exploring the monastery, we slide down to Phoksundo Lake walking along the steep clifss. Be careful. On reaching Phoksundo Lake you would begin to admire nature. Clear turquiose water devoid of animals screens the magnificent image of Mt Kanjiroba. Explore around for a while savor the beauty of green vegetation, silvery Himalayan peaks and exceedingly beautiful natural water reservoir.
Trek back to Chhepka 2520m 6-7 hrs trek
Our trek today begins to retrace back towards Juphal. Hopefully, you have enjoyed the trek and have beautiful memories and images of Phoksundo Lake and its neighborhood. Today's trek brings us back to Chhepka. Overnight at Chhepka.
Trek back to Juphal 6-7 hrs treks
Trekking along the retracing trail for 6-7 hours, we arrive to Juphal. On arrving Juphal release your trek exhaustion. Explore around the village as you may get something interesting. Overnight at Juphal.
Fly from Juphal to Nepalgunj and then take a connecting flight to Kathmandu
Today on a first flight from Juphal we fly to Nepaljung. Boarding the connecting flight, we land at Kathmandu. Once we reach Kathmandu, we shall be escorted to our designated hotels. Evening time is alloted free for your individual activities.
Depart Kathmandu
Our representative will escort to the airport for the final see off to your onward destination. Have a safe flight and visit Nepal time and again we have much more to show.
TALK TO OUR ecstatic Himalaya EXPERT
We're here to chat about your next big idea.
7 am - 4 pm Monday through Thursday.

7 am to 1 pm Fridays by skype.
Otherwise, email us anytime. On average we provide quotes within 6 hours during business hours and the next day during off business hours.
Privately guided trips allow you to be in control of all the details of your trip - departure times, accommodations, extra nights, extra activities, extra experiences - what you want and how you want it.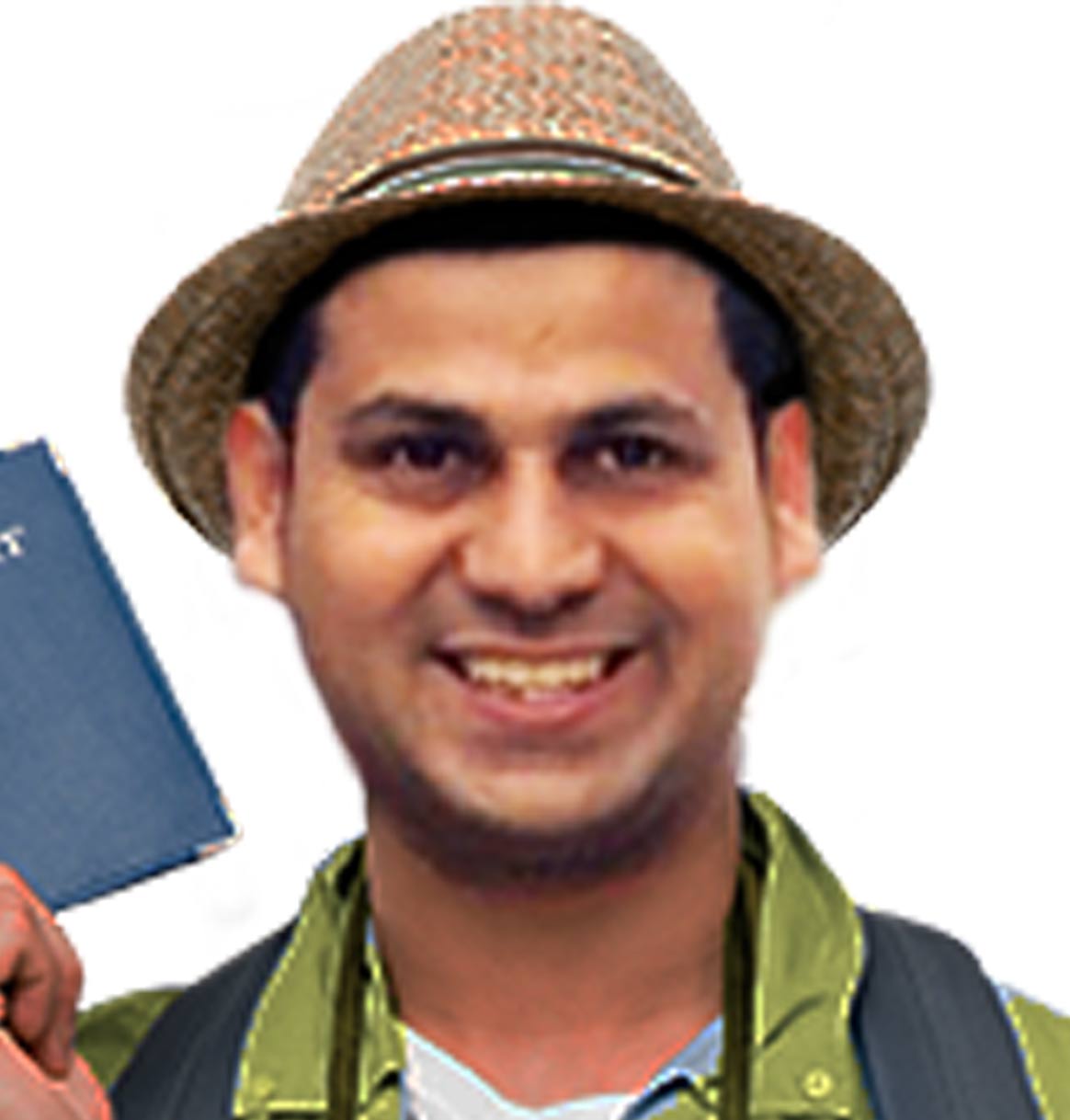 Paras Khanal
Commercial Director