Jomsom Muktinath Trek 12 Days
trip code: EH095
Day 01:: Arrive to Kathmandu; transfer to your hotel
Flying in to the Himalayan nation Nepal is different in itself. Witness the towering Himalayan giant's minutes before landing Tribhuvan International Airport in Kathmandu if the weather permits. Enjoy the cordial Nepalese welcome in arrival terminals of the airport and drive to your designated hotel in Kathmandu.
Day 02:: Drive to Pokhara 200km 7-8 hrs drive
Today, we drive 200 km along the snaky Prithwi Highway to Pokhara. The highway that most of the times runs above Himalayan Rivers offers an adventurous drive. Moreover, the local lifestyles in frequent highway towns and lush vegetation are interesting aspects to observe during the drive. Once, we reach Pokhara we check into our Hotel in Lakeside and set out to explore the tourist hub in town. Pokhara is the city decorated with lakes and panoramic Himalayan views. It is also the biggest adventurous hub of the country. The city is famous amongst trekkers because it is the starting point for Annapurna Region Treks.
Day 03:: Drive to Nayapul 1hr drive and trek to Thirkhedunga 1540m/5052ft
Early morning we begin the journey. An hour long drive along narrow and twisted Baglung Highway brings us to Nayapul. We begin our trek from Nayapul. After an hour walk we come to Birethanti, the popular and the first entrance to Annapurna Conservation Area Project. Then, gradually walking along gentle ups and downs and sometimes on the flat trail, we arrive to Hille. It is a couple of hours trek to Hille. Finally a gentle push on a short flat trail brings us to Thirkhedunga for the overnight stay.
Day 04:: Trek to Ghorepani 3194m/10,479ft
Today, the trek really tests your endurance. A long walking day along the steep uphill stony steps to Ulleri would be an effortful hike. Getting up to Ulleri after 3 hours of strenuous walk would be a great relief. We will enjoy the lunch at Ulleri and then continue to trek along the geltle uphill trail and sometimes flat trails brings us to Ghorepani. Ghorepani is small village at the foothill of towering 8000m plus peaks. Ghorepani refers to horse water and hence we see plenty of horses in Ghorepani. Overmight in Ghorepani.
Day 05:: Morning hike to Poonhil 3210m & trek to Tatopani
Today, we wake up before dawn and begin the trek towards Poonhill. An uphill walk before the dawn for 45 minutes brings us to Poonhill right before the sunrise. From Poonhill we shall witness the most beautiful sunrise of our life. The mountains glitter like gold in the beginning and slowly their color changes as the sun goes higher. As the sun sets high enough, the white walls almost 270 degrees sprawl right before our eyes. The view is amazing. Annapurna, Dhaulagiri, Nilgiri, Fishtail, Dhampus and many other Himalayan peaks loom high up in the sky rising from the base at green hills. Enjoy the morning here and trek down back to Ghorepani. Enjoy the breakfast in your teahouse and resume the trek. We trek downhill throughout the day and arrive to Tatopani. At Tatopani we dip into hot water pond, which presumes to heal all kind of sickness. Hence the devotee throng to this place for holy water dip.
Day 06:: Trek to Ghasa 2,010m/6,594ft
Savoring the beauty of Rupse Fall and walking on a cliff ridge over Kali Gandaki Gorge we arrive to Ghasa. Ghasa is bird watchers paradise. If you are one of them enjoy the stay in Ghasa. Overnight at Ghasa.
Day 07:: Trek to Marpha 3,500m/11,482ft
Exiting out of Ghasa we trek uphill via Dhaiku and Chhyo to Kalopani. Gentle uphill climb further brings us to Kobang. Explore around. We take a breather at Kobang to sight the dazzling view of Mt. Dhaulagiri, sacred cave of Guru Rimpoche and equally holy Makilakhang Gompa and Mahalaxmi temple. Trekking along the leveled trail we arrive to famous thakali village Tukuche. Tukuche houses Ekai Kawaguchi Residence Museum & Tukuche Gompa. The final push uphill leads to Marfa. Marpha is another cultural village and the famous apple garden of the country. Enjoy the home baked apple cake at Marpha and if you desire taste the home brewed apple wine here.
Day 08:: Trek to Kagbeni 2,800m/9,186ft
Today's trek begin by crossing the wooden bridge over Pongkyu Khola and we reach Syang. Syang houses Mustang Eco Museum. Explore the museum and resume the trek. A short walk from here brings us to Jomsom, a windy city with airport and other facilities like bank, internet, hospital and telecom. Exiting out of Jomsom, we climb up on a stony sandy trail to Pang Khola. Crossing the river we get into Eklebhatti. An hour long walk brings us to Kagbeni. A windswept village used to be traditional stopover point of ancient Silk route. Kagbeni is a fascinating town with cobblemazed alleys, which houses Red Gompa. Explore the traditional town. Overnight in Kagbeni.
Day 09: Trek to Muktinath 3,760m/12,335ft
A descending trail via villages like Jharkot that houses Shakya Gompa we arrive to our next important stopover point Muktinath. Muktinath a sacred site above the clouds has huge religious significance. Muktinath is the common pilgrimage for Hindus, Buddhist, Bons and Jains. We will explore around Sarwa Gompa and Vishnu & Jalwa Mai Temple at Muktinath. Overnight at Muktinath.
Day 10:: Trek to Jomsom 2,750m/9,002ft
On the retracing trail and savoring the magnifivent view of Mt. Dhaulagiri we trek back to Jomsom. The last of the trek is relatively easier and full of fun. On arriving Jomsom, we shall let go all the trek exhaustion. Explore around the windy town and get in touch with your family and freinds back home. Describe them the beauty of Jomsom Muktinath Trek. Overnight in Jomsom.
Day 11:: Fly to Pokhara 25 mins flight & drive back to Kathmandu
A short scenic flight from Jomsom brings us to Pokhara. The flight caters the scenic views of Himalayas. On arriving Pokhara, we shall board a private vehicle that would drive us back to Kathmandu along Prithiwi Highway. On arriving Kathmandu we shall escort you to your hotel. Evening on your own.
Day 12:: Depart Kathmandu
Today, we will escort you back to the Tribhuvan International Airport. Fly home safely and visit Nepal time and again.
TALK TO OUR ecstatic Himalaya EXPERT
We're here to chat about your next big idea.
Otherwise, email us anytime. On average, we provide quotes within 6 hours during business hours and the next day during off business hours.
Privately guided trips allow you to be in control of all the details of your trip - departure times, accommodations, extra nights, extra activities, extra experiences - what you want and how you want it.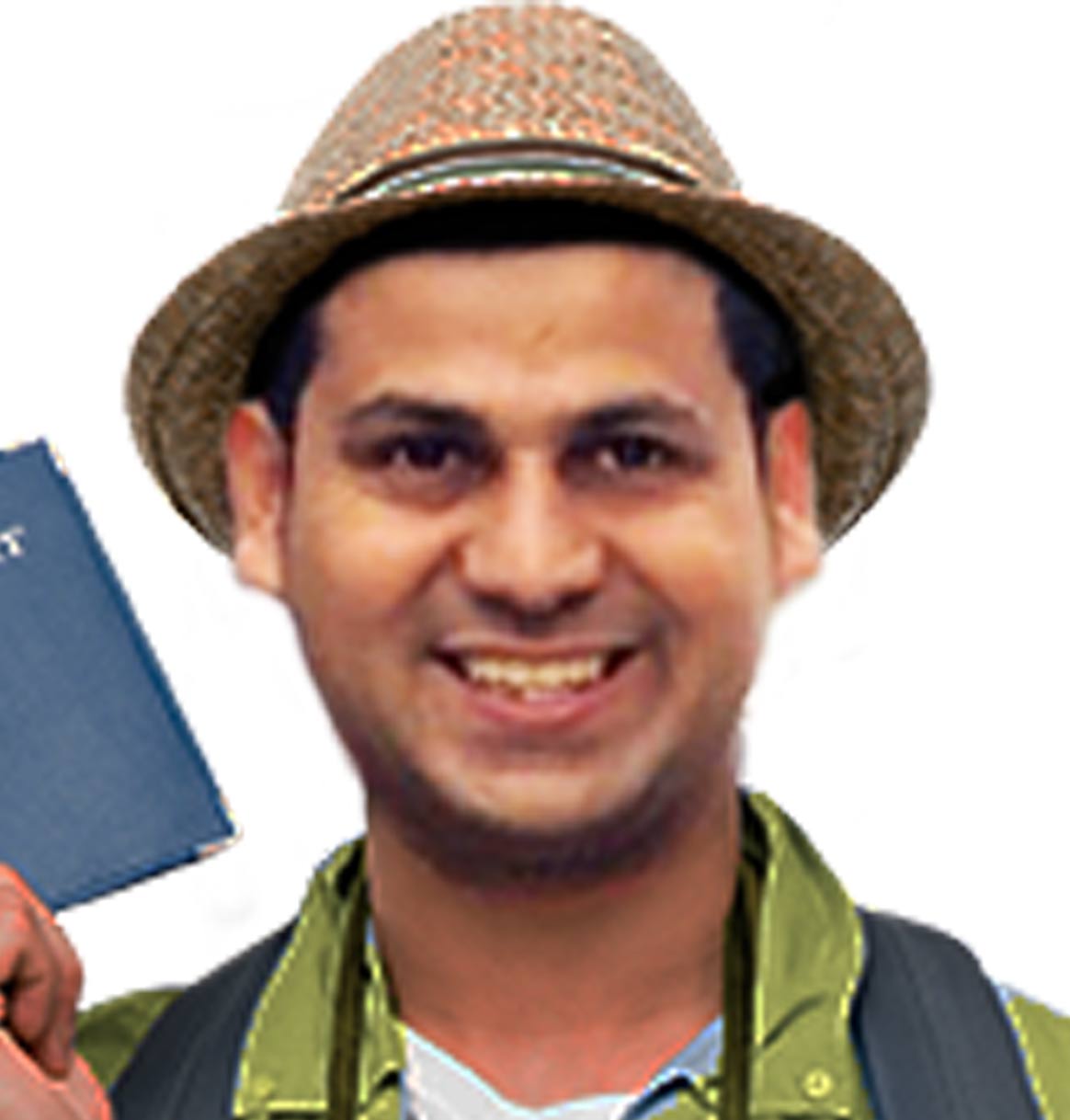 Paras Khanal
Travel Planner