Royal Trek 9 Days
trip code: EH0106
Accomodation
Hotels/Local Tea-houses/Homestays
Day 01:: Arrive to Kathmandu; transfer to your hotel
Flying in to the Himalayan nation Nepal is different in itself. Witness the towering Himalayan giant's minutes before landing Tribhuvan International Airport in Kathmandu if the weather permits. Enjoy the cordial Nepalese welcome in arrival terminals of the airport and drive to your designated hotel in Kathmandu.
Day 02:: Sightseeing tour of Kathmandu
Actually this day is a trek preparation day. However, you will be taken to Kathmandu most beautiful locales where culture history and the heritage of the ancient town spills in every corner. Explore the biggest hub of Hinduism in Nepal Pashupatinath where travelers get to experience the important aspects of the religion. Stroll around Boudhanath, a large dome shaped stupa where Tibetan culture and Buddhism are seen at its best. Exploration of Kathmandu Durbar Square is an awesome experience as it takes you to Nepal's one of the oldest architectural landmarks where local Newari culture also has been prospering for ages.
Day 03:: Drive to Pokhara 200km 7-8 hrs drive
Today, we drive 200 km along the snaky Prithwi Highway to Pokhara. The highway that most of the times runs above Himalayan Rivers offers an adventurous drive. Moreover, the local lifestyles in frequent highway towns and lush vegetation are interesting aspects to observe during the drive. Once, we reach Pokhara we check into our Hotel in Lakeside and set out to explore the tourist hub in town. Pokhara is the city decorated with lakes and panoramic Himalayan views. It is also the biggest adventurous hub of the country. The city is famous amongst trekkers because it is the starting point for Annapurna Region Treks.
Day 04:: Drive to Bijayapur and trek to Kalikasthan 1,370m/4,496ft 4-5 hrs trek
To begin the trek we drive to Bijayapur, which is thirty minutes drive from Pokhara. From Bijayapur our trek begins. Savoring the superb views of terraced farmlands and himalayan panorama we head towards Taalbesi Bazaar. A small town located at the bank of Begnas Lake has enough cultural activities. Then we climb uphill towards Kalikasthan. The trail to Kalikasthan caters frequent views of Himalayan peaks like Annapurna, Machhapuchhre and Dhaulagiri peak amon others. As we arrive to Kalikasthan, we check into a local taehouse and head towards Thulakot, a hilltop just over Kalikasthan for the sunset view. The view of sun setting down from Thulakot is wonderful. Himalayas glitter like gold in the north and deep valley with green Begnas at its base look magical from here. Overnight at Kalikasthan.
Day 05:: Trek to Syaklung 1,730m/5,675ft 5-6 hrs trek
Today's trek mostly treads the ridgeline trail and hence we get enough opportunities to savor the beautiful Himalayan panorama. The Himalayan peaks we get to see include Dhaulagiri, Annapurna, Fishtail, Lamjung and Manaslu among others. Moreover, walking through pleasant rhododendron forests and frequently emerging to culturally important villages like Thumsikot and Lipyani are other delightful highlights of the trek. Throughout the trek the view of beautiful valley expanding gradually from terraced fields to green lakes will feast our eyes. On reaching Syaklung we stay in a locally owned homestay lodge for the night.
Day 06:: Trek to Chisapani 1550m/5,084ft 5-6 hrs trek
Todays' trek descends down along the beautiful rhododendron forests to Sarke Bhanjyang and then climbs uphill to get to a beautifully located Gurung Village, Mohoria that offers the beautiful Himalayan panorama. From Mohoria a pleasant walk through the woodlands gets you to scattered village of Chisapani. Chisapani, a village on a hill overlooking lakes like Khastey, Begnas and Rupa also offers the great Himalayan panorama. Overnight in a homestay lodge in Chisapani.
Day 07:: Trek to Taal Phedi and drive to Pokhara 2-3 hrs trek
Trekking downhill along Sundari Danda, we arrive to Taal Phedi. Throughout the trek, the scenic views of lakes down will entertain our eyes. On arriving Phedi, we can explore around the region and go for a short walk to Rupa Lake before we board the vehicle that will drive us back to Pokhara. On arriving Pokhara, we check into our hotel. Rest of the day, we shall spend on our own.
Day 08:: Drive back to Kathmandu
Today we drive back to Kathmandu along Prithwi Highway. Enjoy the drive. As we arrive to Kathmandu we will check into our hotel in the city. Evening on your own.
Day 09:: Depart Kathmandu
Our representative will escort to the airport for the final see off to your onward destination. Have a safe flight and visit Nepal time and again we have much more to show.
TALK TO OUR ecstatic Himalaya EXPERT
We're here to chat about your next big idea.
Otherwise, email us anytime. On average, we provide quotes within 6 hours during business hours and the next day during off business hours.
Privately guided trips allow you to be in control of all the details of your trip - departure times, accommodations, extra nights, extra activities, extra experiences - what you want and how you want it.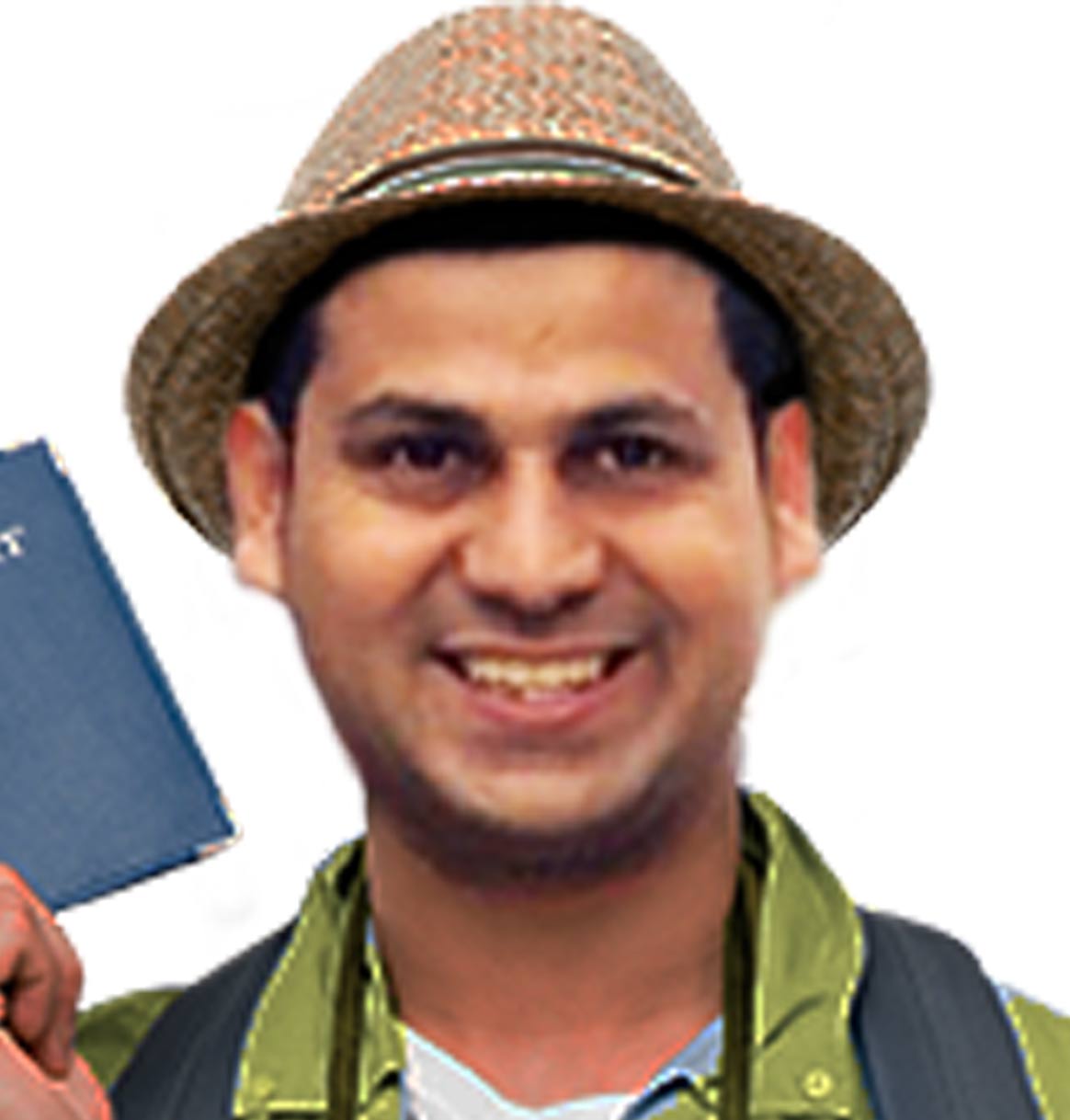 Paras Khanal
Travel Planner