Makalu Base Camp Trek 18 Days
trip code: EH091
Day 01:: Arrive to Kathmandu; transfer to your hotel
Flying in to the Himalayan nation Nepal is different in itself. Witness the towering Himalayan giant's minutes before landing Tribhuvan International Airport in Kathmandu if the weather permits. Enjoy the cordial Nepalese welcome in arrival terminals of the airport and drive to your designated hotel in Kathmandu
Day 02:: Sightseeing tour of Kathmandu
Actually this day is a trek preparation day. As our team is preparing the required permits for Makalu Base Camp Trek; you will be taken to Kathmandu most beautiful locales where culture history and the heritage of the ancient town spills in every corner. Explore the biggest hub of Hinduism in Nepal Pashupatinath where travelers get to experience the important aspects of the religion. Stroll around Boudhanath, a large dome shaped stupa where Tibetan culture and Buddhism are seen at its best. Exploration of Kathmandu Durbar Square is an awesome experience as it takes you to Nepal's one of the oldest architectural landmarks where local Newari culture also has been prospering for ages.
Day 03:: Fly to Tumlingtar 40 minutes flight and drive to Num
Today, we shall be driven to the domestic section of Kathmandu Airport. Then we board a small twin otter plane that takes us Tumlingtar, a small town above Arun River in the eastern hills of Nepal. From Tumlingtar, we drive along the newly carved gravel road in the hills to a small village of Num. Overnight in a teahouse at Num.
Day 04:: Trek to Seduwa 1493m
The trek begins today. Today we trek down to Arun Khola from Num. We cross it and begin to ascend gradually towards Seduwa. On the way a small village Runmara is worthwhile observing. Seduwa is a small ethnic village, where you could feel the diversity of Nepal.
Day 05:: Trek to Tashigaon 2057m
Today is a short trekking day. However, we gain significant height today. Trekking on gradual uphill trail that has beuatiful terraced lands we head towrads Tashigaon. Infact today, we go around a hill to get to the elevated cultural hamlet Tashigaon. Overnight in a homestay in Tashigaon.
Day 06:: Trek to Kumau Kharka 3500m
Today we gain the elevation by almost 1500m. Hence the day's walk today mostly involves steep uphill hike. However, we shall also trek along the beautiful cloud covered woodlands of Makalu Barun National Park that opens to a wide countryside, which is totally untainted. A steep walk from here brings us to the small ridgetop village Kauma Kharka.
Day 07:: Trek to Dobato 3700m
Today, we have a long trekking day. Hence we start relatively early. Initailly, we climb uphill that stretches all the way up to the top of Shipton La Pass 4229m. Savour the magnificent views of Mt. Kan Kangchenjunga and Makalu from the top of the pass. Then we begin to gradually slide down to Dobato (3700m) for the overnight stay.
Day 08:: Trek to Yangri Kharka 3620m
After the breakfast our trek resumes. We descend down to Barun Khola. Then chasing the trail beside Barun Khola we trek gradually uphill that takes us to the wide and open grazing land at Yangri Kharka. We shall set our camps here for the overnight stay.
Day 09: Trek to Lengmale Kharka 4400m
Once again a day that prevails with gradual uphill climb. Today we trek up the valley that goes towards Upper Barun Khola. A points we witness the majestic views of Kanchenjunga and Mt. Makalu and mostly we enjoy the wilderness of the nature. After a long day walk we emerge to a another grazing land Lengmale Kharka (4400m), where we shall rest for the night.
Day 10:: Trek to Sherson 4500m
3-4 hours of trek through the dense woodlands of rhododendron and barberries, which gradually gets thinner into cotoneaster and juniper bushes will take us to Sherson. Sherson is the base camp of Mt. Makalu. Enjoy the view of lower Barun glacier and the towering Mt. Makalu from Sherson. Sherson also has scores of stone enclosures along with catering the significantly best views of Himalayan peaks, that include the upper south face of Mt. Makalu and Mt. Baruntse (7,220m).
Day 11:: Free day at Sherson for a day excursion to Makalu Base Camp 4800m
Today we shall have a rest day to hike around important landmarks around Sherson. The most beautiful hike would be stretch up on the right side of the camp for the better view of Mt. Makalu and Barun Pokhari. The hike would also reward with the view Everest Kanshung face and Lhotse. Another beautiful hike would be an hour long steep uphill climb to the upper Makalu Base Camp 4800m. The upper Makalu Base Camp caters grander views of all the above mentioned peaks. At the end of the day we hike down to our camps in Sherson for the overnight stay
Day 12:: Trek Sherson to Yangri Kharka (3,620m)
Today trek begins to retrace down back towards Tumlingtar. We shall chase the retracing trial that leads to the end of Barun valley and eventually to the village of Yangri Kharka for the overnight stay.
Day 13:: Trek back to Kumau Kharka 3500m
Continue to trek along the retracing trail Today we cross over Shipton La Pass and hike down to Kumau Kharka for the overnight stay.
Day 14:: Trek to Seduwa 1493m
Today we drop sharply to Seduwa. Trekking through the dense woodlands we stop at Tashigaon for the lunch. Resuming the trek on the retracing trail we arrive at Seduwa for the overnight stay.
Day 15:: Trek to Num 1500m
It is just the last day of the trek. It is also the repeat of the first day's trek but in opposite way. At the end of the day, we arrive to Num, where you can see wheels after spending almost two weeks in the wilderness of Makalu region.
Day 16:: Drive back to Tumlingtar
Once again hit the bumpy road that takes us back to Tumlingtar. Once we reach Tumlingtar, we shall release all our trek exhaustion.
Day 17:: Fly back to Kathmandu; Free Evening
Today, we shall fly back to Kathmandu. Enjoy the last views of towering Himalayan peaks of eastern Nepal for the last time from the windows of your plane. Once we reach Kathmandu, we shall be escorted to our designated hotels. Evening time is alloted free for your individual activities.
Day 18:: Depart Kathmandu
Our representative will escort to the airport for the final see off to your onward destination. Have a safe flight and visit Nepal time and again we have much more to show.
TALK TO OUR ecstatic Himalaya EXPERT
We're here to chat about your next big idea.
Otherwise, email us anytime. On average, we provide quotes within 6 hours during business hours and the next day during off business hours.
Privately guided trips allow you to be in control of all the details of your trip - departure times, accommodations, extra nights, extra activities, extra experiences - what you want and how you want it.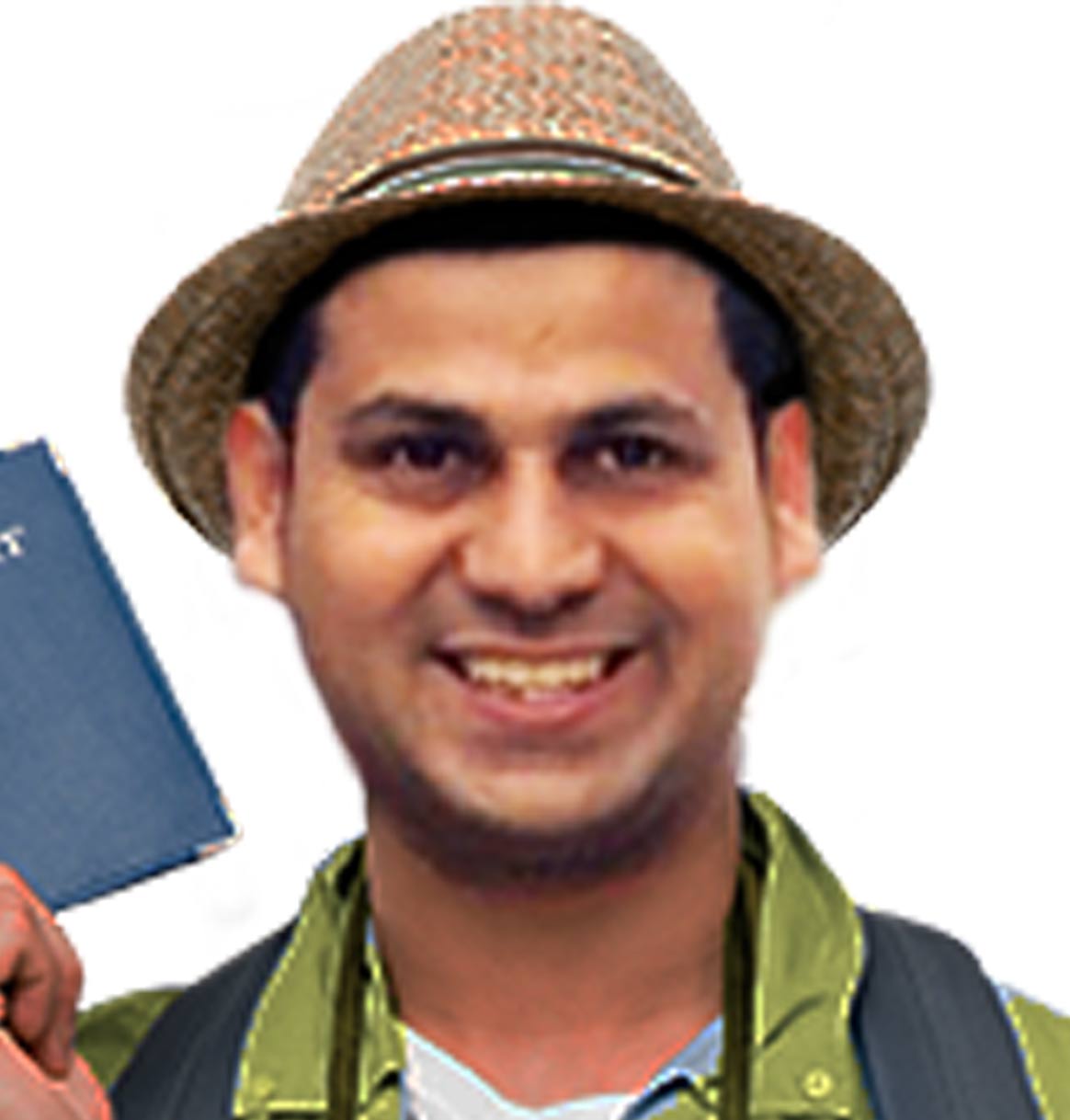 Paras Khanal
Travel Planner